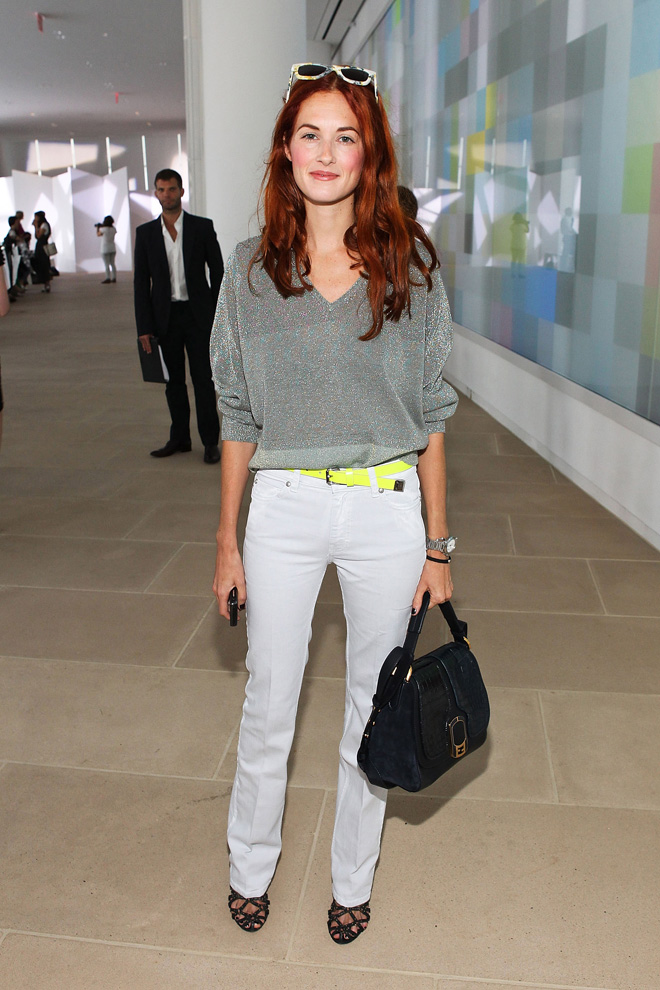 Getty
Street-style star and designer muse Taylor Tomasi Hill recently left her post as Marie Claire's style and accessories director for a new gig as artistic director for online retailer Moda Operandi. We asked the flame-haired tastemaker to share what's been on her sartorial radar.

And click here for information on Moda Operandi's latest trunk show, which features fashion photography from Damien Hirst, Jeff Koons and other artists.
What's the last thing you bought that you loved?
During my 40-minute break from jury duty, I flew to the Balenciaga sample sale (the one not to be missed) and purchased two pairs of shoes. One pair is in a silhouette that I already own in another color that I can run laps in, and the other pair is a work of art. The latter pair won't be leaving dinner parties at my apartment. They are too cumbersome.

What was your first designer purchase?
I went to college in Brooklyn and would scour vintage and thrift stores for a long time. My first designer purchase was a pair of Michael Kors heels. I worked them for years and had to have the soles replaced multiple times. Finally, one day the heel just gave completely in half. But I got my money's worth out of them by landing in my first Bill Cunningham photo in those Kors.

Facebook or Twitter?
Neither! I am awful with social media.
What's your rule to dress by?
Dress for your body! Clothes will always look wrong if they don't fit. Tailoring has its limits, so I never go for things just because they are trendy. Clothes have to work for your shape.
What's the last song you downloaded?
Florence and the Machine, "Shake It Out": my new anthem!

What trend do you hope dies?
Bandage dresses. I have seen more than enough!

Minis or maxis?
Minis.

If you had to wear clothes from one decade only, what would it be?
I guess the '20s. I've always been really drawn to vintage jewelry and I think there is something about the evolution of culture in the '20s that really translated to fashion.

What's on your nightstand?
My Kindle, way too many jewels, and a photo of my dog Stormy.

What was your first job?
Accessories assistant at W magazine

What's your signature scent?
I have terrible allergies. Perfume makes me sneeze and always gives me a headache, so I don't wear a scent.

What literary character would you be?
Sherlock Holmes. I think he would have a really good closet.

Who would be your ideal shopping buddy of all time?
Someone quiet with deep pockets! Just kidding...

What's the last thing you read?
The new Steve Jobs biography--such an incredible book

If you could only shop in one store for the rest of your life, what would it be?
Colette in Paris. I make a point to go there every season! It's got such a good mix of designer RTW and unknown accessories you can't find anywhere else.

Ideal holiday vacation destination?
Mexico! Give me a hot sunny beach any day of the year, but especially in December.