One of the spaces that caught our eye at NADA Fair in Miami was that of Richmond, Virginia-based ADA Gallery. The selection of works presented was refreshingly unpretentious, focusing not on controversial installations or the latest minimalist scribbles, but on expression, plain and simple.
The unabashed work of Jimmy Trotter brought us in immediately with childhood, pop culture references that anyone would be pressed to conjure up in their imaginations. As images and memories of youth spend less and less time in the inventory of our collective unconscious, the necessity of Trotter's wit and courage to create will become more apparent.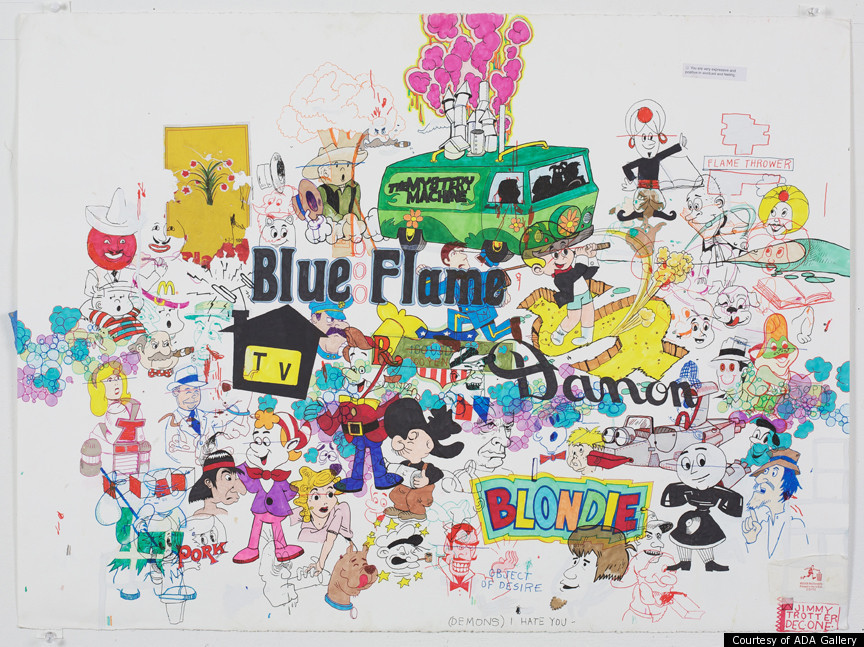 Jimmy Trotter, Object of Desire, marker, whiteout, collage on paper, 25.25 x 32.5, 2010-11, Courtesy of ADA Gallery
Yet Trotter's work is not all fanciful and full of whimsy, certain marks, words or images reveal a layered discussion beneath the cartoon characters. "Felini" comes to mind, a scene of playful characters congregating with phrases such as "Dirty Sex" and "Closing In On Death." The small messages show that this is, indeed, an artist coming to the realization that we can only look back, the possibility of claiming that care-free feeling of youth disappearing by the second.
Huffington Post Arts interviews John Pollard from ADA Gallery about Trotter's "Gasoline Rainbow/Dripping With Ice"
Julie Rodrigues Widholm, Associate Curator of the Museum of Contemporary Art in Chicago noted that Trotter's work "appears to be trying to get at the daily struggles that beset everyone as part of the human condition. Perhaps this angst is what turns him to music and toys, the safe-havens of childhood fantasy and escape."
Apart from art, the Miami-born, New Jersey-based artist is an avid collector of toys, comic books and records. The toys and comics are Trotter's primary source of inspiration and material, but the records are for his acclaimed DJ alter ego, Superworlf.
PHOTO GALLERY
BEFORE YOU GO