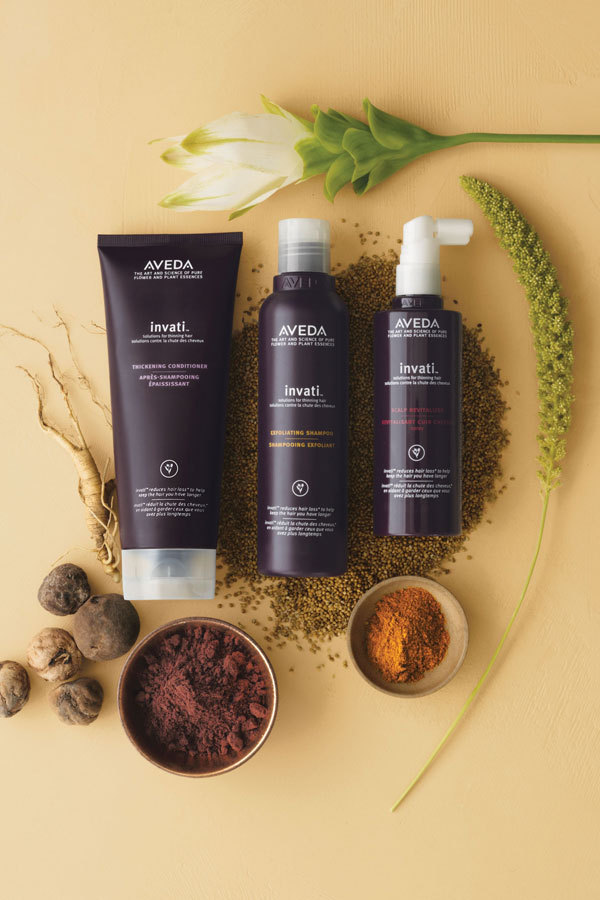 Aveda Invati Exfoliating Shampoo, Thickening Conditioner and Scalp Revitalizer. Courtesy Photo.
While on a recent weekend getaway to Virginia with my girlfriends, our conversation turned to thin hair. As 20-something year old women with different textures and lengths, we are already experiencing forms of hair aging like finer edges and loss of volume. But these new products from Aveda may be the solution to our tress woes.
The beauty brand delved into their roots in Ayurveda -- the 5,000 year-old healing tradition from India -- to create a range specifically for thinning hair. Invati, which is Sansrkit for "invigorate," is a daily system that includes an Exfoliating Shampoo, Thickening Conditioner and Scalp Revitalizer that work in tandem to help you keep the hair you have, as well as prevent future loss by unclogging pores and strengthening the shaft.
Blended with essential oils, herbs and nutrients like lavender, rosemary, kukui nut, ginseng and vitamin E, the star ingredient of this line is turmeric. The mustard-color spice, commonly used in curry Indian cooking, penetrates the scalp and stimulates circulation when massaged in. And you'll know that it's working because of the warm, tingling sensation it produces.
While the entire line is worth a try, I'd definitely recommend incorporating the Scalp Revitalizer into your morning and evening routines if you want to target thinning hair at the source.
Invati Hair system ($24-$60) will be available January 2012 at Aveda salons and spas and online at aveda.com.
BEAUTY RELATED LINKS YOU MAY LOVE:

The Red Lip, Reinterpreted - Refinery29

Love It Or Leave It? Gwen Stefani's Off-To-The-Side Top Knot - BellaSugar

31 New Holiday-Party Hair Ideas - Allure

10 Boozy Fragrances That Won't Make You Smell Like a Drunk - Racked

30 Days, 30 Ways to Better Skin - iVillage
BEFORE YOU GO