Tyler Shields is a photographer who has been allowed a fair amount of space to experiment with the medium. He slapped meat across Mischa Barton's face for one shoot and had Lindsay Lohan gorging herself on blood for another. Now, young Hollywood's "it" photographer is getting political.
After the pepper-spraying incident at UC Davis sparked an internet meme phenomenon, Shields thought the opportunity for a thematic shoot was too good to pass up.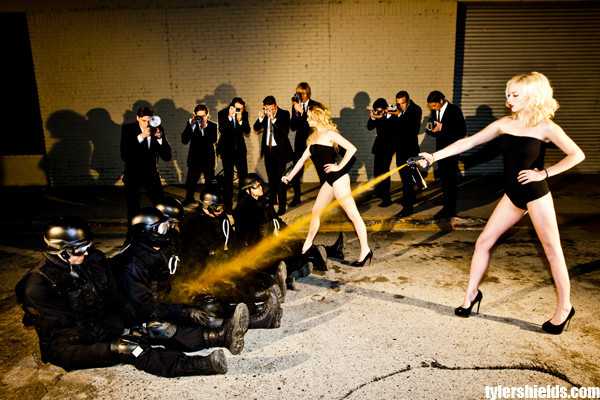 As leggy blonde models spray London riot police in the face, a crew of ravenous paparazzi shoot the action from the side. The images play on the role of power and its perception, giving the models, culturally sculpted to appear vulnerable and objectified, control of the action.
"This was just about as crazy as it looks and yes, we used real pepper spray which is no joke. Trust me, you do not want to be sprayed in the face!" The photographer explained.
While this may be an unexpectedly politically-charged and topical concept for Shields, it is more than just a one-off joke. The images echo the struggles of the little guy, be it the nationwide debate on bullying in schools or the Occupy movement.
It's a little ironic for someone who spends their time photographing celebs and scrawling political messages on expensive cards, but who are we to stifle artistic expression with amusing observations?
"It's easy to be the bully but it's not so fun when you're the one being bullied. Stand up and fight for what you believe in a dream can only die if you let it..." Shields says on his website.