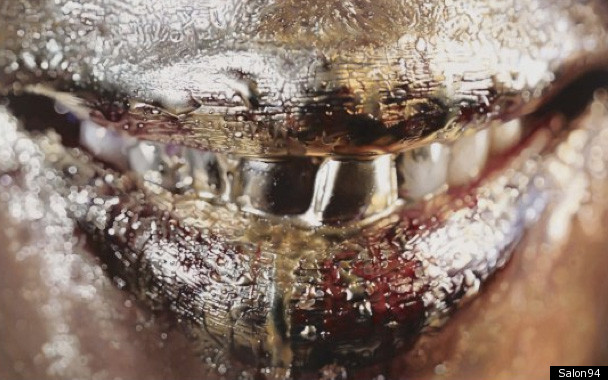 Straddling the tasty and tasteless, glamorous and grotesque, Marilyn Minter's hyper-saturated (in every sense of the word) paintings are like a freak accident you can't look away from, soaked in gold instead of blood.
In her latest collection Minter depicts photo-realistic splashes of metallic moments, from a child splashing in liquid silver to stiletto heels stomping through crystal-like rain puddles. The results are as clear as mirror images, yet the mirror feels like it is melting.
Minter translates the guilty pleasure of pornography onto every object she comes in contact with, no matter how unassuming or banal. Every object becomes an object of desire. An object to be seen, mulled over, tasted.
Somehow a glass panel littered with raindrops is seductive, glamorous and dangerous all at once. The gaze with which Minter approaches her subject matter is like the oozing metal that surrounds them: slow as syrup, every last drop begging to be savored. Minter gives ravenous viewers the most sinfully decadent dessert, without any utensils.
PHOTO GALLERY
Marilyn Minter