Occupy Denver was served with yet another eviction notice from the City of Denver threatening to remove the protesters personal property again on grounds that it is "illegal to place any encumbrance on the public right of way." Protesters faced police action against them for the same reasons back in November when nearly 200 riot gear clad police officers raided the park encampment and arrested 17 people.
Fox31 reports that Christine Downs, Public Works department spokeswoman, said items not removed voluntarily will be forcibly removed when city crews return to the park between 10 a.m. and 2 p.m. on Thursday.
According to The Denver Post, an assortment of personal items from tarps, to blankets to sleeping bags have accumulated along the Civic Center sidewalk where the Occupy Denver protesters have been organizing. Police are aware of the notices, but do not plan on moving into the park Thursday morning. In past clashes with Occupy Denver protesters, the police have generally made raids in the evening.
UPDATE:
According to The Denver Post, Denver's Department of Public Works is backing off the forced removal of Occupy Denver structures and personal items. However, an eviction may still be imminent, new Denver police chief Robert white met with Occupy Denver demonstrators at Civic Center Park Thursday afternoon and told the protesters, "I wanted to come and tell you personally that the encumbrances are a violation and at some time we will have to enforce the law." White answered questions and shook hands with several of the members of Occupy Denver.
White has scheduled a meeting with Occupy Denver on Monday, Dec. 19 to further discuss the occupiers concerns, Fox31 reports.
According to the Occupy Denver Facebook page, White said he wanted to have a conversation with up to 10 of the Occupy Denver representatives on Monday and that he was coming back later Thursday evening for the 7 p.m. Occupy Denver General Assembly.
EARLIER:
Tim Holland, an Occupy Denver protester, told HuffPost, "I was contacted by a DPD commander yesterday in response to a request for open dialogue that was made. We tentatively scheduled a meeting to send representatives to establish a line of communication with the new police chief tonight at 4pm. Before that could happen public works cited the encumbrance law and told us all our "structures" have to go. Apparently 'eviction' is the new state dialogue in colorado and across America."
The notice received by the protesters was posted to their Facebook wall, it reads:
It is illegal to place any encumbrance on the public right of way. An encumbrance is defined as "any article, vehical or thing whatsoever" which is on "any street, alley, sidewalk, parkway or other public way or place." D.R.M.C. 49-246 et. seq. The manager of Public works may order all encumbrances in the public right-of-way to be removed. The failure to remove items so ordered is a criminal offense; the maximum possible penalty for which is up to one year in the county jail and/or up to $999 fine.

PLEASE REMOVE ALL PERSONAL ITEMS FROM THIS AREA.

If personal items are not removed immediately, you may be subject to an order of removal at which time all items will be subject to removal by the Denver Police Department.
In a press release, Occupy Denver called its supporters to action:
At 10AM tomorrow the City Of Denver plans to evict Occupy Denver again. Join us on "Bill of Rights Day" as we assert our right to freely assemble in public spaces. Spread the word far and wide, we call on anyone who can make it down to stand with us in solidarity.

NEEDS and REQUESTS
Most importantly we need people to come and stand with us. This is beyond a first amendment issue THIS IS A HUMAN RIGHTS ISSUE. What good are we as a city if we treat our citizens this way. It is the middle of the winter and many of our houseless brothers and sisters will have no other place to go. The city will not even allow them to sleep on the sidewalk.

Please join us tomorrow and for the next few days to exercise our rights as citizens.
Occupy your lunch hour.
Occupy your coffee break.
Occupy your happy hour.
Occupy the night.

We also need film and media people to record this moment in history!

Bring your camera!
Occupy Denver were planning a march today to Sen. Bennett and Sen. Udall's offices to urge them to co-sponsor Sen. Bernie Sanders' "Saving American Democracy" amendment which would make it clear that corporations do not have the same constitutional rights as human beings, according to Occupy Denver's event page. Even with an eviction looming, Occupy Denver still intends to march beginning at 11 a.m.. See the "March to Save Our Democracy" event page for more information.
For more information visit OccupyDenver.org.
Notice served to Occupy Denver: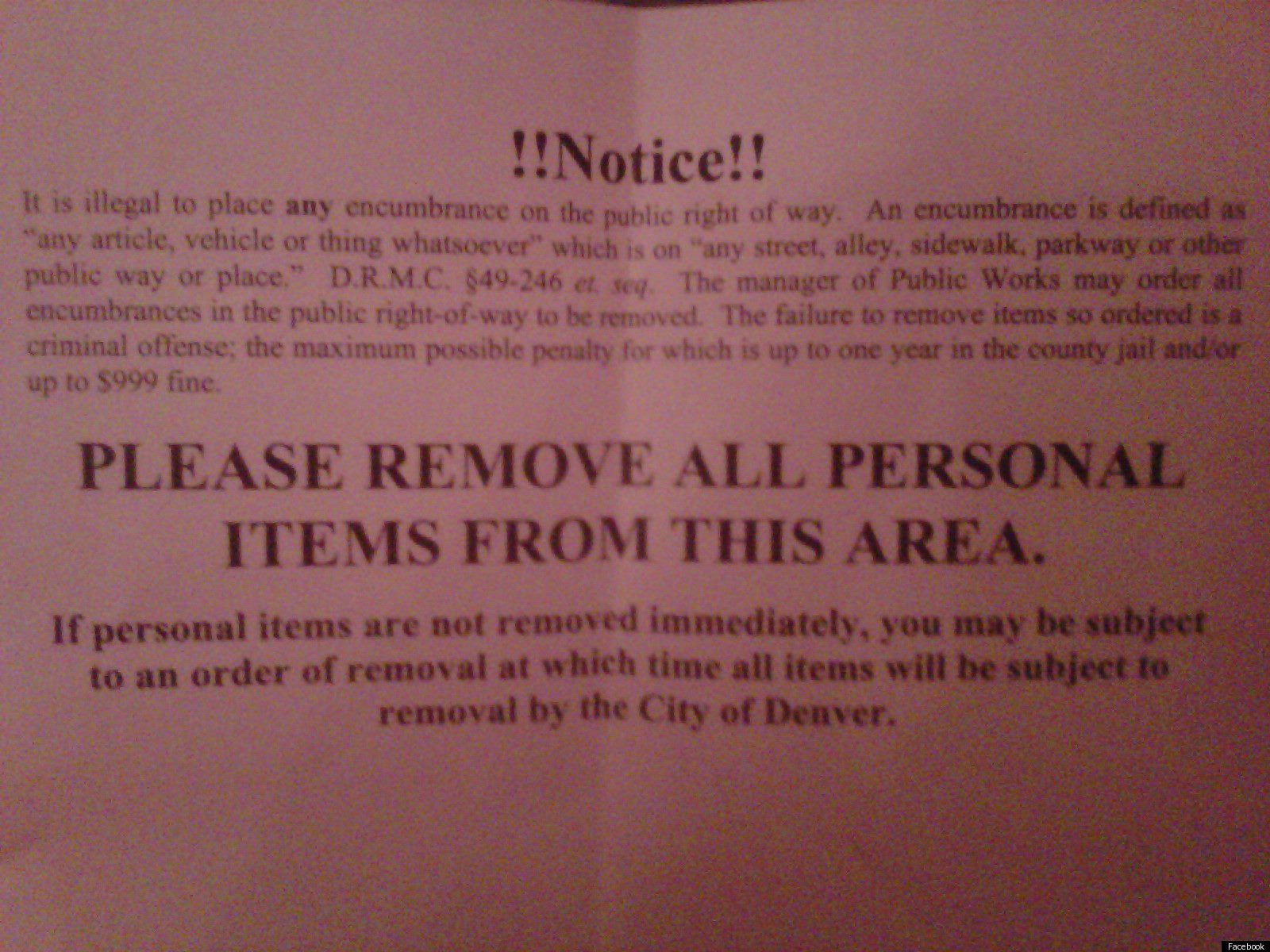 -
PHOTO GALLERY
BEFORE YOU GO
Signs Of Occupy Denver
PHOTO GALLERY
Signs Of Occupy Denver