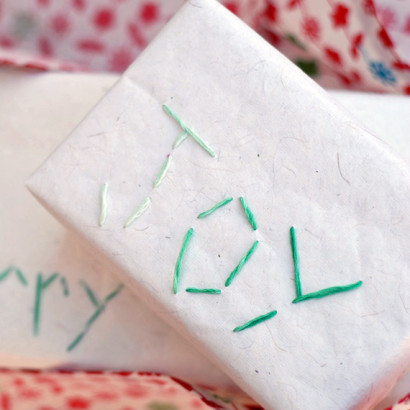 Photo by Victoria Hudgins of A Subtle Revelry
Forget the card - wish your friends and family a happy holiday right on your wrapping paper instead! This homemade gift idea is simple and quick with a great personal touch. Added bonus: you don't need to buy holiday themed paper. If you were really in a bind, we bet you could even use plain white paper.
What You'll Need
Needle and thread
Wrapping paper
Pencil
How To Make It
1. Place your gift on the wrapping paper and outline it so you know where the top is going to be.
2. Take the gift off and use your pencil to stencil what your are going to sew. Remember, you are working on the opposite paper side, so write down the mirror image (especially if you are using words).
3. Use your needle and thread to stitch around your design.
For more great DIY gift wrap, check out our confetti adornments and flowery embellishments. Or, take a look at these fantastic homemade gift ideas.
And to see another way to customize your holiday gifts, watch this.