This was a big week for digital music, with two of the scene's behemoths trumpeting big new releases, and one insurgent launching a wholly new service to the world. Let's take a look at online music's major developments of the week, shall we?
We start with Apple, whose iTunes service transformed the music industry when it was first released in 2001 and which is now doing battle with streaming services for the hearts (and ears) of music listeners around the world. This week Apple began rolling out its iTunes Match service internationally to users in the United Kingdom, France, Australia, Canada, the Czech Republic and others. iTunes Match, announced as the "One More Thing" at Apple's Worldwide Developer's Conference in June, allows users to match their own music library with iTunes'; songs that match up can be listened to from anywhere on up to ten devices for $25 per year. In America, the service launched in November, missing its October target date by a few weeks; though Apple has not released subscriber numbers, analyst Gene Munster of Piper Jaffray believes that Apple will operate iTunes Match at just above a break-even point, in a continuing effort to persuade users from switching away to up-and-coming competitors.
Speaking of which, Spotify, the desktop-based streaming music client, is viewed by many as a potential iTunes killer. The service allows subscribers to listen to unlimited music of their choosing for free (with ads), or without ads for $4.99 per month, plus on their mobile devices for $9.99 per month. Spotify recently announced a new interface with several third-party apps that will integrate with the music player (album reviews that you can read while listening; real-time scrolling lyrics; playlist creation based on your mood) that CEO Daniel Ek hopes will make his company's service more social and a more robust, satisfying listening experience overall.
Now, Spotify is rolling out an app of its own: Spotify Radio, a music discovery engine that seems to have Pandora in its sights.
Though Radio has existed on Spotify for a few months now, it was a relatively weak service compared to what Spotify unveiled this week. Spotify Radio works a lot like the Internet-based Pandora, which lets you create "radio stations" based on artists, songs or genres; Spotify uses an algorithm to play similar songs it predicts that you'll like. A few features should make this a major challenger to Pandora's Internet radio dominance: First, you get unlimited skips, plus the ability to go back and listen to past songs you've heard on demand. Second, the process of creating a radio station within Spotify Radio is easy and smart. You can simply drag the song you are currently listening to into the "Radio" section of your Spotify and a new station is created. Check out a brief video (featuring my voice!) below:
Finally, a new Spotify competitor launched this past Wednesday with a price that is sure to raise eyebrows. It is called Rara, and it is a British venture that has rolled out its service in over a dozen countries, including the United States. The service lives at Rara.com, and for the first three months, it will be available for just $1 per month, giving you on-demand access to unlimited streams of over 10 million songs, in an attempt to undercut $10 per month services like Spotify, Rdio and MOG. The library is fairly well-stocked, with the catalogues of all four of the major labels, and it has already launched an Android app, with an iOS app to follow.
Rara is structured around the playlist, and more specifically around playlists: A relatively barebones homepage greets the Rara user with music player controls, a short sidebar where you can find songs marked as Favorites or Playlists you've created, and a"Radio" section; the entire bottom half of the screen is suggestions for pre-loaded playlists, based on your mood ("On Top of the World," "Chilling Out," and "Let's Party" are the three that pop up for me); by genre (pop, rock, R&B/rap); and "Best Of" stations (by year, artist, genre).
Here's a screenshot of my Rara, after selecting the "Let's Party" playlist: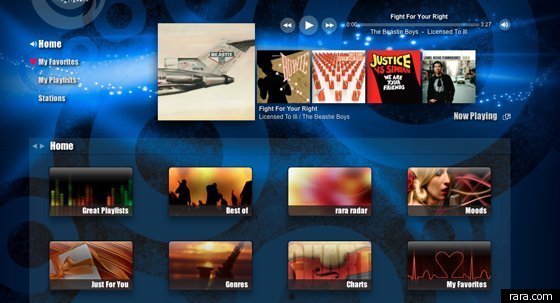 And here's a brief video walkthrough from the folks at Rara: