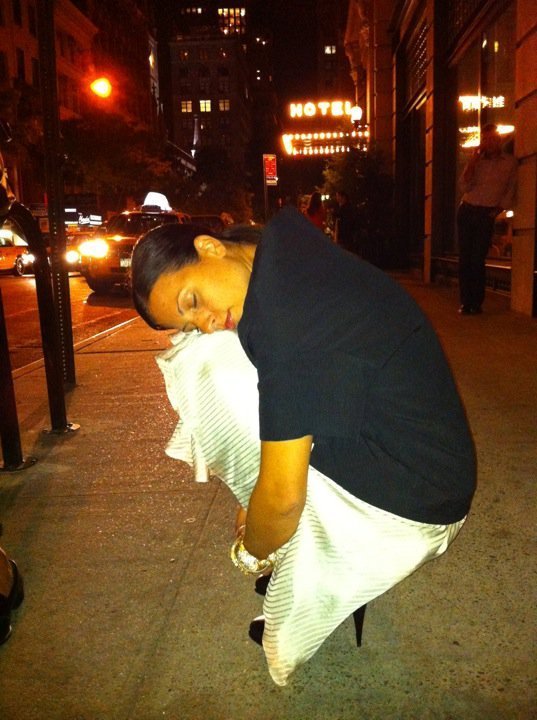 I grew up in South Florida during the '80s when style consisted of an Op bathing suit and the latest Trapper Keeper. During the summer of 1994, bitten by the fashion bug, I had saved up all my earnings from Contempo Casuals (yep, I worked there) and spent it in Le Bon Marche in Paris. The first day of 10th grade I proudly walked in wearing pleather silver pants that were so hot that I was sweating by second period. Thankfully my school was tolerant and found my different sense of style mildly charming (though I was sent home once when the Headmaster told me "This is NOT a nightclub").
Fast-forward through college in Baltimore and a few internships in the fashion industry and my high school style was snuffed out in favor of a quieter look thanks to my first job at Elle as then Fashion Director Nina Garcia's assistant. Nina always cut a chic figure in slim-fitting silhouettes, whether she wore cigarette style pants or pencil skirts, the look was understated, elegant and stylish with a capital S. Inspired by her polished look, I quickly followed her lead and over the years at Elle and then at Harper's Bazaar my look consisted of cashmere ladylike sweaters and pencil skirts, all culled from sample sales at slashed prices. (They all still hang in my closet, by the way.) You could say my look was corporate fashion polished--I always looked nice, but there was nothing interesting about it, nor was it really me. That's when I met Karen Marsala.
Both assistants to editors at Harper's Bazaar, we sat next to one another. Warm, incredibly funny and an incorrigible night-owl, Karen had a look. Think punk raver meets couture--high fashion mixed with street cool. She had been a fixture on the rave scene in college (extremely wide-leg jeans, oversized polo shirts, hair barrette and all), and then went on to assist Fashion Director Joe Zee at W, where, surrounded by the most avant-garde designers, she was able to rechannel that creative energy, but in a more fashionable way. She is also close to 6 feet tall and willowy, so things work on her frame, though I doubt she would have changed her style one iota if she were five feet tall. She had the style confidence that I had in high school, but that was now squashed under years of pencil skirts. Every day I would find myself asking her "What are you wearing?" and every day it was the same answer--a mix of high-end designer clothes (also collected at consignment stores and sample sales), vintage pieces and items from Zara, H&M and the like. When I dug deeper into her style ethos, she told me that after years in uniform at Catholic school as a child she was thrilled to throw caution to the wind in high school as she eschewed the typical oversized sweatshirt/sneakers uniform so enjoyed by her peers and went for a more mature look - think lace-up heeled booties and suede blazers. Today, inspired by style blogs, magazines and New York City on a daily basis, her look has grown up with her. Now you would probably find her in Madewell jeans, a vintage top, topped off with an asymmetrical Rick Owens coat (did I mention that she isn't afraid to splurge here and there?).
It wasn't until many years (and two kids) later that I had the confidence to try on her style for size. We were on a California shoot together and I was probably wearing Uggs (they were de rigeur there) while she looked annoyingly ahead-of-the-curve trendy that I sat down for a tutorial. She showed me the pile of bracelets she was wearing and explained the provenance of each (one belonged to her grandmother, one was a gift, a few were cheapies, and it was all anchored by her mens-style gold watch from Seiko). It's worth noting that she was layering bracelets long before the rest of the fashion crowd caught on. She also has her finger on the pulse when it comes music and interior design, which makes sense since all three genres are so closely related.
Now I take inspiration (well, copy) looks that I see on street style blogs and in magazines, I try to always wear heels in the office (much to the dismay of my podiatrist), and my rule of thumb is layer, layer, layer. Whether it's clothes or jewelry, I like my look to have many different parts, thus making it that much more my own. Of course I get goosebumps when I see pictures of Kate Moss and Diane Kruger killing it on the red carpet or just kicking it around town, but I prefer Karen's more approachable mix of mixing high and low, new and old, and mostly, just having fun with fashion.
Most people would say that age and feeling comfortable in my own skin has given me the confidence to own my style, but I think that's bull. Watching Karen exude her very own sense of fashion over the years is what gave me the balls to work my own look. In fact, you'd still find me in a pencil skirt to this day had I not had the pleasure of sitting next to Karen. There's nothing better than when we're together and she turns to me to ask "What is that you're wearing?" with a look of approval in her eyes.
Scroll down to the bottom to see photos of Karen's style evolution over the years.
FASHION RELATED LINKS YOU MAY LOVE:

Big Into Blush: Nude And Blush-Toned Trends For 2012 - Refinery29

Stars In Spectacles That Made Them Famous - Daily Beast

See How Celebs Wear Sequins - Lucky

Petite? Curvy? Learn Styling Tips Specific To Your Body Type - InStyle