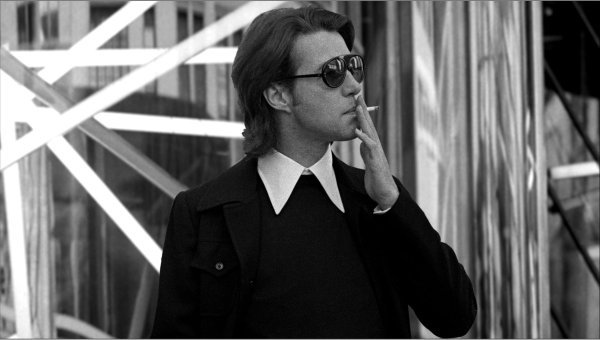 If you have never heard of 1970s designer Roy Halston Frowick, you might enjoy Whitney Sulder-Smith's new documentary, "Ultrasuede: In Search of Halston."
A household name in the 1970s, when his clothes were de rigeur among the Studio 54 set - Bianca Jagger, Liza Minelli and Elizabeth Taylor, to name a few, the Iowa-born designer fell out of favor in the fashion industry following his secret diagnosis of AIDS, increased drug use and a disastrous deal with JC Penney to bring his designs to the masses (America wasn't quite ready for the onslaught of mass retail collaborations). Yet, Halston's influence is ever-present in contemporary fashion, a fact Sulder-Smith appeared to discover while interviewing contemporary designers such as Naeem Kahn, Diane von Furstenberg and Ralph Rucci, all of whom were inspired by Halston's minimalist, draped designs.
Sulder-Smith began his research for the documentary by interviewing Minelli, Halston's best friend, in her apartment which was decorated by the deceased designer. Already off to an uncomfortable start, Minelli was forced to continuously correct Sulder-Smith's uninformed statements about Halston. She instructed him to "go do some research," an awkward journey the viewer is subjected to for the following two hours.
At this early point in the film, Sulder-Smith makes it clear that this is not exactly a film about Halston, but more about his sophmoric discoveries regarding the iconic designer through archival footage, interviews with Halston's peers today and Sulder-Smith's own ignorance of the era.
Perhaps the most enjoyable part of the film was the interview with Vogue contributing editor Andre Leon Talley, whose role was apparently to teach Sulder-Smith about Halston's history. "Let me talk, don't interrupt," Talley snapped at him, "Anyway, Diana Vreeland..." In addition to Talley, journalists Cathy Horyn of The New York Times, Jim Moore of GQ, Amy Fine Collins of Vanity Fair and Glenn O'Brien of Interview magazine agreed to be interviewed for the film, along with several of Halston's models like Anjelica Huston and Pat Cleveland. In spite of this impressive roster of participants, "Ultrasuede" remains uninformative. Sulder-Smith acknowledges that most were unwilling to talk about Halston's decline as "a pretty salacious tell-all book was written about Halston in the early 1990s... so people were reticent to talk to me."
Many of Halston's significant peers (boyfriend Victor Hugo included) have long since passed away, while others (like friend and jewelry designer Elsa Perreti) refused to participate, leaving gaps in Sulder-Smith's knowledge about the designer. Those who would talk about Halston seemed to glorify his career and overlook the details of his dark decline, refusing to reveal explicit memories from his infamous and decadent dinner parties, nights at Studio 54 and decreasing professionalism towards the end of his life. "It wasn't that wild," claimed nightlife photographer Patrick McMullan, while the Dupont brothers insisted, "maybe it seemed fun because we were on so many drugs."
After watching "Ultrasuede: In Search of Halston," the viewer will still most likely feel like Halston's legacy has yet to be found, and will be assured that Whitney Sulder-Smith is just as lost. Watch a preview of the film, which will be available on Video on Demand December 26th, 2011 and in select theaters in February 2012.
FASHION RELATED LINKS YOU MAY LOVE:

Big Into Blush: Nude And Blush-Toned Trends For 2012 - Refinery29

Stars In Spectacles That Made Them Famous - Daily Beast

See How Celebs Wear Sequins - Lucky

Petite? Curvy? Learn Styling Tips Specific To Your Body Type - InStyle