In this special year-end collaboration,
TED
and
The Huffington Post
are excited to count down 18 great ideas of 2011, featuring the full TEDTalk with original blog posts that we think will shape 2012. Watch, engage and share these groundbreaking ideas as they are unveiled one-by-one, including never-seen-before TEDTalk premieres. Standby, the countdown is underway!
Watch Wael Ghonim's powerful TEDTalk from TEDxCairo, given just days after he was released from prison. And then follow the story in tweets of our 2007 TED Prize winner, Jehane Noujaim as she took part in the revolution that would remake her homeland.
When filmmaker and producer Jehane Noujaim won the 2007 TED Prize, she made a wish to "bring the world together through film." Her work includes Control Room, a documentary that goes behind the scenes at Al-Jazeera, and Startup.com, a clear-eyed look at a deep-pocketed dotcom. She has deep roots in Egypt, and when Wael Ghonim tweeted:
@Ghonim Wael Ghonim A call to all well-educated Egyptians around the world. Come back ASAP to build our nation. #Jan25
She replied to him:
@Ghonim back and ready! where do we sign up?
And in her next tweet, she's:
off to tahrir
She and her crew filmed the growing gathering in the square, and the clashes that followed as the army sought to shut down the organic protest. On February 26 she reported:
tahrir square. army chases protestors out of square, take our camera and sound equipment and orders to delete footage.
These extraordinary events, as we now know, touched off the Arab Spring, a flowering of revolt in the Arab region. And our eyes turned away from Egypt to watch Syria, Yemen, and other countries in the region. The revolution wasn't settled in Tahrir Square, far from it, but it seemed... close.
And then, late last month, while the United States was celebrating Thanksgiving, the gatherings returned to Tahrir Square. And late one night, Jehane's fellow TED Prize winner, Cameron Sinclair, tweeted this:
@casinclair Cameron Sinclair Hey @TEDprize @junecohen @TEDchris Jehane may have been arrested by military in Egypt. Want to help find out what's going on?
As Jehane later told NBC News:
"With tear gas everywhere, myself and my crew got separated from each other. I was just trying to basically get out of the area because the tear gas is incredibly strong," she said.

"I ran into then one military guy ... my camera got taken, my eyepiece got broken by him, he called me a spy; whereas the rest of the military had been very helpful in getting us out of the situation, this particular military guy was absolutely not," she said.

Noujaim said it was many hours after her arrest before she was told the reason she had been detained.
Late-night emails between family and friends confirmed she'd been picked up -- and so, it developed, was Mona Eltahawy, who spoke powerfully at TEDWomen last December about being a Muslim and a feminist. Eltahawy was beaten and sexually abused while in custody; Noujaim was not, but her camera, gear and footage were confiscated and not returned on her release after 36 hours in custody. On her release she tweeted.
#jehane #freejehane. THANK YOU SO much and LOVE to you ALL!! we may be taken to court but for now we are FREEEE pic.twitter.com/46gB5ELy 29 Nov via web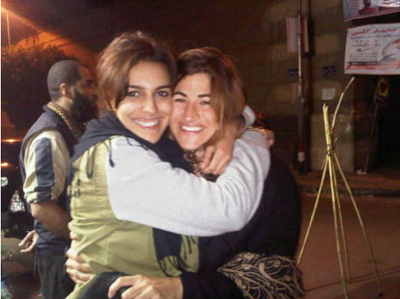 @casinclair: #freejehane Jehane has left booking and is free. (as are others) She wants her camera. @YGLvoices
i am back on twitter!! thank you thank you all for your incredible support and love, i don't have words to say how grateful i am..., Jehane tweeted.
Where does Egypt go from here? Noujaim told NBC News that:
My hope is that ... people all around Egypt will soon be able to have systems of law in place, which really do protect their rights because before human rights are dealt with, before these systems of law are in place, it's very difficult to talk about democracy and politics and who one should vote for.
And she tweeted last week:
Heroes of the revolution...Human Rights Lawyers (Rajia Omran) working morning to night changing mindsets and re-educating a country