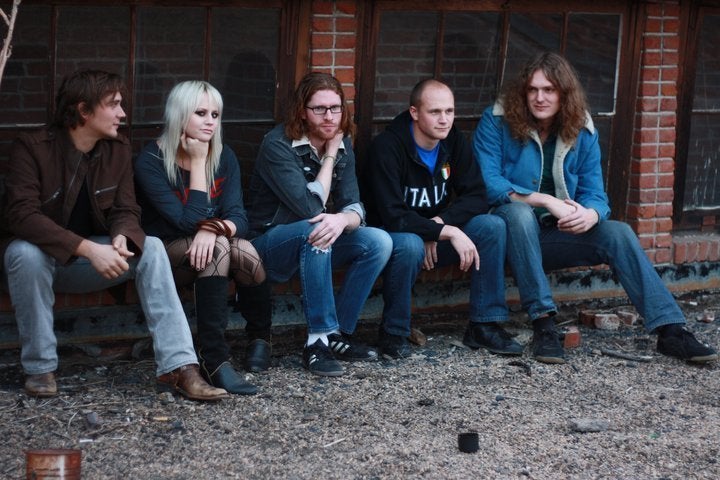 Denver-based five-piece band Varlet has crafted one of the most stunning records of 2011. The band's distinct sound is a hauntingly beautiful blend: It's folky, psychedelic and jazzy. The group talked with HuffPost over email about its new album The Drifter, what inspires them to make music and lead singer Lilly Scott's stint on "American Idol" Season 9.
Who would you cite as your main influences lyrically and sonically?
The Beatles, Billie Holiday, Devendra Banhart, the Doors, Tom Waits. The Beatles are self-explanatory, and Billie Holiday is vocally [Lilly's] biggest inspiration. As a band, lyrically and musically, we really seem to emulate a mix between the Animals meets the Doors.
Non-musical inspirations also include: shitty bars, Carl Sagan, Shakespeare, Bill Hicks, traveling. We are constantly inspired by our environment and try to embed our experiences into sound.
How does the songwriting process work for Varlet?
We've gone in all directions with it. Each song always starts with a different idea, with a different person, even. And everyone contributes different levels to each song. It's really a collaborative effort within the band and it never starts the same. The Drifter album worked out really well using this method.
We all come from different musical backgrounds and have a very open forum when we create music, so when we come together, this is just what comes out. We try to keep the folky vibe constant, but when you are jamming so much on electric instruments, it's hard not to want to be a crazy rock band.
How did the recording of The Drifter come together?

It was a cognizant decision to have all the songs be interconnected. The entire album tells a story that correlates with everything that's happened to us in the past year. It was a long, challenging, beautiful process that was a DIY effort with friends. We're very proud of the way it came out with all the effort and time was invested.
Lilly, what was it like being on American Idol?
Idol was an exciting journey. Getting to work with so many industry professionals 24/7 is something I will never take for granted. The fame was overwhelming at times because you never really realize how many people television truly reaches. I always knew I wouldn't get to play my own music on the show and that was challenging -- I feel I can truly connect with my listeners when I can sing my own words and express my creativity. It humbles me to think my fans from the show took the time to find my original music on the internet because they were intrigued. Lilly Scott fans have organically turned into Varlet fans and that excites me. I can't wait to see the response for our new album on tour and see if Varlet can make our own name known. Varlet is where I am naturally the happiest.
Touring as much as possible to support the album, meeting people and playing festivals. We're already quickly compiling a full length LP and hope to find label support sometime before we actually start to record it.
LISTEN to Varlet's The Drifter:
BEFORE YOU GO