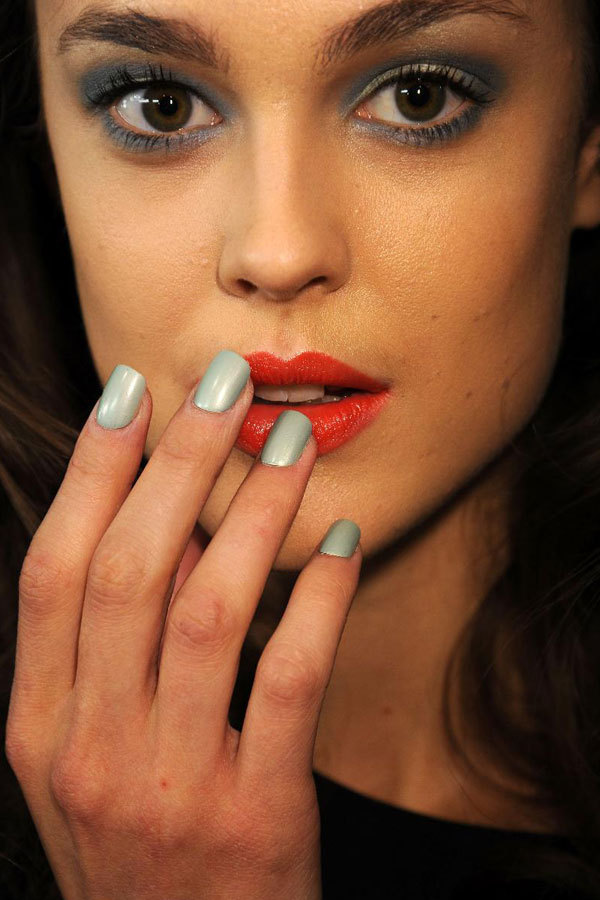 Muted mint green manicure at Costello Tagliapietra's fall 2011 fashion show. Photo Courtesy of CND.
There's something about seeing my nail polish fade at the edges that makes me panic and worried that I will be judge for leaving them unkempt. So every weekend, I find myself running back to my manicurist's chair for that "just stepped out of the salon" look. But according to Jin Soon, celebrity nail artist and founder of Jin Soon Natural Hand and Foot Spas, I can save a lot of money and time by applying a top coat twice a week to keep my nails from chipping. And while this seems like an obvious step, it really works.
I've never considered reaching only for my favorite glossy top coat in between nail salon visits, however, this 10-second trick kept my steel blue-gray mani fresh for two weeks in spite of constant tapping on the keyboard, getting caught in zippers and other unfortunate run-ins.
What's your biggest beauty blunder? Tell us in the comments section and we'll help you find a fix.
Meanwhile, watch the video below for fast and flawless holiday nail art you can get at home.
BEAUTY RELATED LINKS YOU MAY LOVE:

How Much Do You Primp On Christmas Morning? - Allure

Nail Art You Won't Believe - The Frisky

How To Choose The Perfect False Lashes - BellaSugar

Stars With Dragon Tattoos - Elle