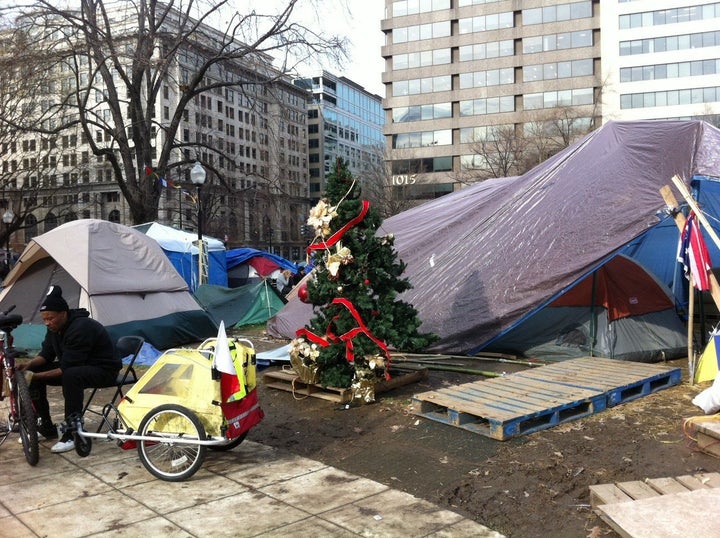 WASHINGTON -- Do protests take a holiday?
Not Occupy Washington, D.C. The protest originally known as "Stop the Machine" will be holding a Christmas Eve holiday party at Freedom Plaza, where demonstrators have been camped out since early October. The program includes a concert featuring D.C. native Radio Rahim, an alternative hip-hop act called Leftist, D.C. rapper Arman Ali and blues musician Casey Lynch. The musical program will be followed by a big meal and caroling.
Meanwhile, separate protest group Occupy DC has a festive tree in McPherson Square as well as a red, yellow and green "Seasons Greetings from Occupy" sign set up near the park's statue of General McPherson. But no official Christmas activities are planned for the group, which is nearing the end of its third month in McPherson Square.
Protester Kelly Canavan told The Huffington Post that some Occupiers will be going home to see their families, while others will celebrate with local families who have opened their homes to demonstrators.
"A lot of people need a break to rejuvenate," Canavan said, explaining the halt in protest activity. "We're going to start Occupying the New Year."
No matter who you are, may that be a citizen, professional, student, activist, parent, unemployed worker, teacher, professor, votes, or a underrepresented who represent the 99 percent you are all welcome to participate in the celebration of the new year. 2012 will be a busy year for the Occupy Movement and will be certainly a tough year for the 99 percent. With a collapsing economy, social injustices, and corruption in politics we hope at least to make the best out of it by starting the year with a massive public party!
Those who care to join in can RSVP for the NYE party on Facebook.
Adrian Parsons, the lone remaining Occupy DC hunger striker, has more modest holiday plans. Parsons stopped eating on Dec. 8 to protest the District of Columbia's lack of equal voting rights in Congress. He's lost some 20 pounds since embarking on a diet of just water and vitamin pills and is generally too weak to stand anymore. For Christmas, he'll be going to see his parents in Fairfax, Va., where he'll present them with a large piece of artwork and continue to not eat.
"I'm gonna have some water appetizers, water ham, look at the water Christmas tree," he said. "Dream of a water constitutional amendment giving D.C. the right to vote."
RELATED VIDEO: Arman Ali, who will be playing at Occupy Washington, D.C.'s Christmas Eve party.