Critically acclaimed singer Chrisette Michele has come a long way in the last few years.
Only 28, she is about drop her fourth album, her new single, "I'm a Star" is blowing up on radio and she's headlining the Kiss Holiday Concert at the Best Buy Theatre tonight (with Peter Baldwin opening in New York, in a show produced by Jill Newman Productions.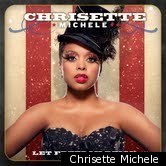 "I like to bring a little holiday cheer this time of year," Michele says. "People have been through hard times... I wish the whole world could be there.... I've put a lot into the show -adding and adding and adding-its gonna be great!."
She's also been all over radio alongside Rick Ross and Drake on "Aston Martin Music," from the Bawse's current release Teflon Don. Chrisette has been really feeling good about herself: "When I'm in the studio, the last words you'll ever hear me say is 'hit' or 'top of the charts.' I don't think that way; I just think about what feels really good. I didn't fathom the success of 'Aston Martin Music.' I was just excited to be in the studio with Rick."
And in the past year, Michele joined Maxwell, Musiq Soulchild and Anthony Hamilton on four tours and was featured at Town Hall during the Blue Note Jazz Festival.
Chrisette Michele
Best Buy Theatre, NYC
December 23
Produced By Jill Newman Productions