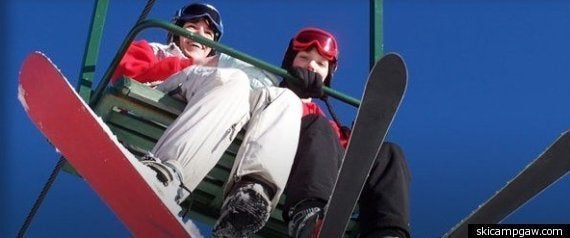 Campgaw Mountain in New Jersey is a popular destination for skiers and snowboarders. As part of a series on ski resorts, Huffington Post Travel offers our guide to Campgaw Mountain, featuring all the key information snow lovers need to know before they hit the slopes.
The Basics
Located just 20 miles north of New York City,
is in Mahwah, New Jersey, in northern Bergen County. Its close proximity to routes 208, 202 and 287 make it convenient to the George Washington Bridge, the Tappan Zee Bridge and central and southern New Jersey and accessible by bus, car and rail. The mountain sits less than an hour's drive from LaGuardia Airport. Campgaw Mountain's proximity to NYC is its big appeal -- it's not the biggest hill with the most challenging ski slopes, but the Campgaw Mountain is picturesque, it has a great terrain park and the prices are hard to beat.
The Mountain
At just 720 feet high with a 270-foot vertical drop,
is a modest ski area with relatively short runs and no expert trails. It won't satisfy hardcore ski enthusiasts, but for families with young kids, casual skiers, snowboarders and those who just need a break from the city without spending a fortune, it's just right. The skiing and snowboarding season runs from mid-December to early March. Campgaw makes its own snow to supplement an average annual snowfall of 45 inches.
Trails And Lifts
Campgaw Mountain has five beginner/intermediate
and two black-diamond trails for experienced skiers. The freestyle terrain park features enough rails, tables and jumps to satisfy snowboarders at all levels. Guests can also enjoy six snow-tubing lanes. The lifts are basic: two double chairlifts, two "magic carpet" lifts in the beginner area and two surface lifts for snow tubes. On Fridays and Saturdays, the trails are open until 10 p.m. for night skiing.
In The News
Campgaw Mountain updated its terrain park in 2010 with a new design that put it on the radar for East Coast snowboarders. The new park boasts Fred Trauerts, professional snowboarder and host of
as its Terrain Park Manager. Trauerts not only manages the park, he also designed and created every feature with his crew, offering something for everyone, from aspiring boarders to expert freestylers. Lauren Traub Teton of
called Campgaw "the park to beat."
Cost
Basic
start at $18 for a weekday 4-hour ticket and go up to $36 for an 8-hour weekend/holiday ticket. Tubing is $18 to $24. Guests receive a $2 discount for ordering tickets online. Season passes are also available. Daily rental packages cost $28 for ski equipment, or $38 for snowboard equipment. Daily group lessons are available for ages 4 to 6, starting at $25. Lessons for kids 7 and older run 90 minutes and cost $30. Packages including Snow Passes, equipment rental and lessons are available.
Apres-Ski
Apres-ski options are relatively limited at Campgaw Mountain. The resort doesn't offer much in the way of entertainment and non-snow-related activities. Guests staying near the mountain can travel to the
to enjoy a variety of restaurants, pubs and shops. And, of course, New York City is close by.
WATCH: Campgaw Mountain
Lauren Traub Teton talks to Fred Trauerts about the Campgaw Terrain Park.