Elle Fanning has had a knockout 2011: she's modeled for Marc Jacobs, appeared in W with her sister, and starred in hits like "Super 8" and "We Bought A Zoo."
So it's fitting that the 13-year-old rings in 2012 by nabbing a totally awesome teen honor: gracing the cover of Teen Vogue.
Elle poses for the mag's February 2012 issue looking tres cute in a red dress and beaming smile. In the interview, she dishes on our favorite topic, shoes: she wears penny loafers with real pennies in them, saying, "My mom used to wear the same kind when she was little!"
Teen Vogue also chatted with Elle's thespian older sister Dakota, who says Elle is the style maven of the household:
"She's the go-to fashion person in the family," Dakota readily admits. "Elle knows every single model, every single collection, every single piece from every single collection. She has a real passion, and it's not at all in a materialistic way. She genuinely appreciates the workmanship and creativity."
Elle also says regarding her fashion choices, "I'd much rather look like a two-year-old than a 21-year-old."
It turns out Teen Vogue covers are a family affair: Dakota posed for the mag back in 2009, looking identical to Elle in long blonde hair and a striped dress to promote "Twilight."
Check out Elle's cover below vis-a-vis Dakota's on the right and decide which you like best, and read more of Elle's adorable interview over at Teen Vogue.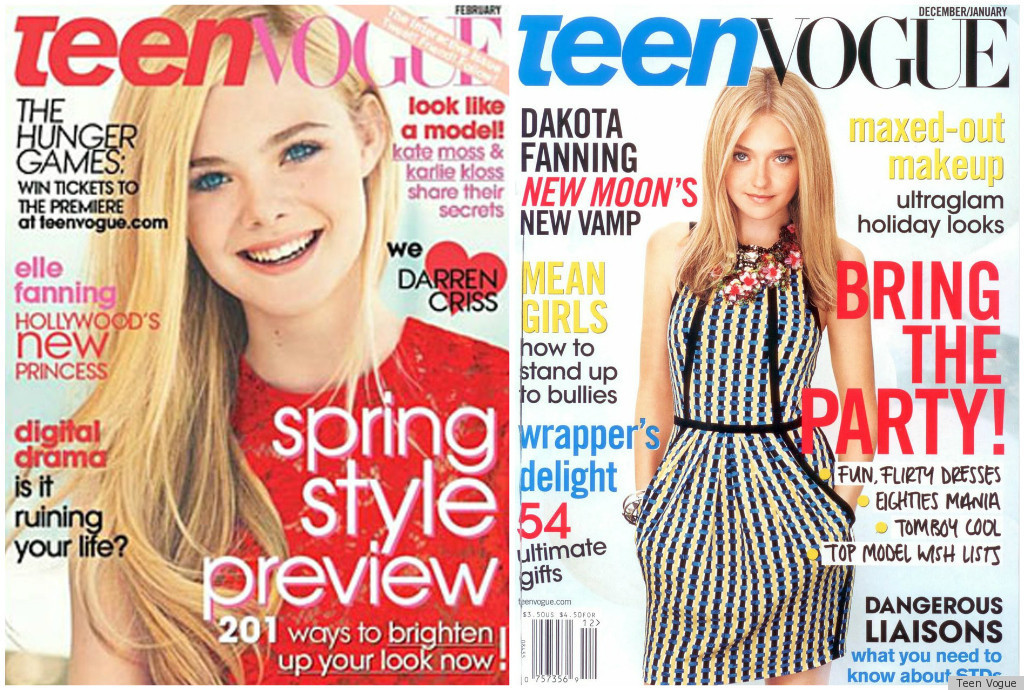 BEFORE YOU GO