UPDATE: Kim Richards is indeed still in rehab, according to Richards' rep.
Has she or hasn't she?
While People magazine reports that "Real Housewives of Beverly Hills" star Kim Richards has left rehab on Thursday, another website is reporting that Richards is still very much in the building.
"She's doing okay... the plan is for her to continue with outpatient therapy. Everyone is hoping for the best," a source told People magazine about the 47-year-old's alleged departure from rehab, into which she checked in early December.
But celebrity website GossipCop negates the report, quoting another source that claims that Richards "is still in rehab and doing very well."
Sister Kyle Richards, also featured on the popular Bravo show, also caused further speculation when she posted a photo of the two of them on Wednesday night on her Twitter page.
"Happy night w/ my sister @KimRichards11 @alexiaumansky. @SophiaUmansky @KimberlyJ95 and portia," she tweeted.
Either way, neither website is denying that the reality show star's treatment for alcohol and substance abuse was much-needed. Richards' increasingly erratic behavior reached new heights this season, including an emotional cat fight with cast mate Brandi Glanville, noticeably slurred speech and the deterioration of her already difficult relationship with Kyle.
Meanwhile, Richards' ex-husband Monty Brimson spoke out recently in support of the troubled "Housewife" entering rehab.
"She wanted to seek help so she could get better for herself, her children and her family," he said.
PHOTO: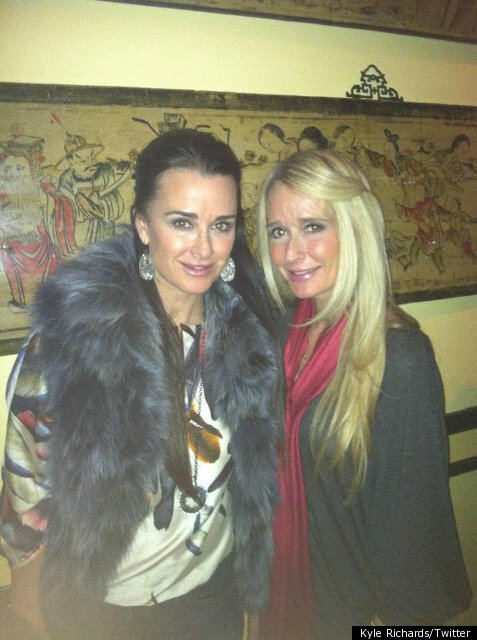 Check out photos of other "Real Housewives" below.

PHOTO GALLERY
BEFORE YOU GO
The Real Housewives of Bravo
PHOTO GALLERY
The Real Housewives of Bravo