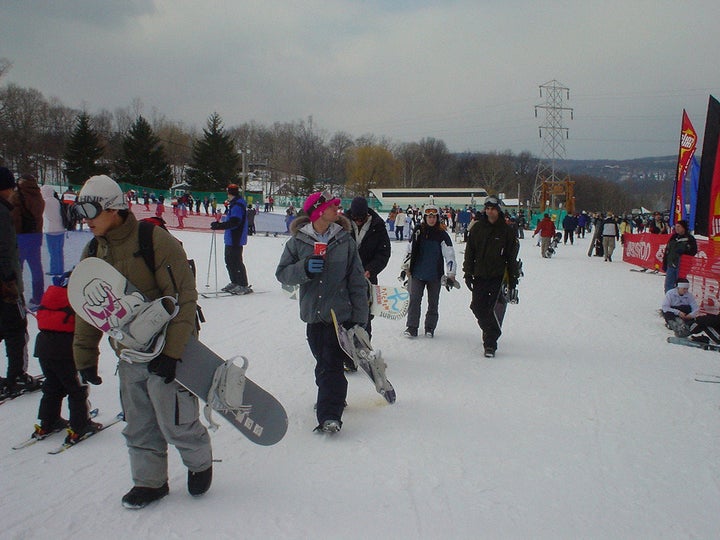 Mountain Creek in New Jersey is a popular destination for skiers and snowboarders. As part of a series on ski resorts, Huffington Post Travel offers our guide to Mountain Creek, featuring all the key information snow lovers need to know before they hit the slopes.
The Basics
is located in Vernon, New Jersey, about one hour north of New York City. The resort is the closest ski area to New York City, and is just 47 miles from the George Washington Bridge. The ski area has the highest vertical drop south of Vermont and lures in guests with its terrain park. The Mountain Creek ski season runs from December through March.
The Mountain
The resort receives an average of 65 inches of snow each year, but also has
capabilities covering the entire skiable area. The summit elevation is 1,480 feet, and the resort boasts a vertical drop that measures 1,040 feet. The mountain has a variety of short and long runs that cater to the skiing and snowboarding abilities of all guests. The resort opens as soon as it has received enough snow or when temperatures are cold enough to make snow.
Trails And Lifts
Mountain Creek gives guests access to 41
. Seven of the trails are considered easy, 25 are intermediate and the rest are more difficult. Guests can access the top of the trails by two high-speed quads, one high-speed eight-passenger gondola, two fixed-grip quads, one fixed-grip triple and two magic carpets. The ski area also has a 67-acre
.
In The News
The ski area hosts several
and competitions each year, drawing guests and competitors to Mountain Creek. Guests must be members of NJSRA and USSA to participate in the races. Mountain Creek was rated as one of the top five
in the country for 2010 and 2011. The park has 18 trails and more than 80 features. It also hosts the Red Bull skate bowl at its Bear Base Arena.
Cost
A midweek
is priced between $40.99 for youth and seniors and $50.99 for adults. Weekend rates run between $50.99 and $63.99.
are priced between $329.99 and $439.99. Guests can
ski and snowboard equipment with prices starting at $29.95. Mountain Creek offers ski and snowboard
for adults and children. Rates run between $89 and $129.
Apres-Ski
Mountain Park offers several dining and after-hours activities. All guests can enjoy the
, and adults can relax at one of three bars that offer drinks and food.
pamper guests with facials, body treatments and massages. The ski area also offers guests access to a bowling alley, shopping and live music. Mountain Creek offers guests four luxurious
, including a resort and spa and a slope side hotel.
WATCH: Mountain Park
Here is a view of the park from Mountain Creek's ski lift.