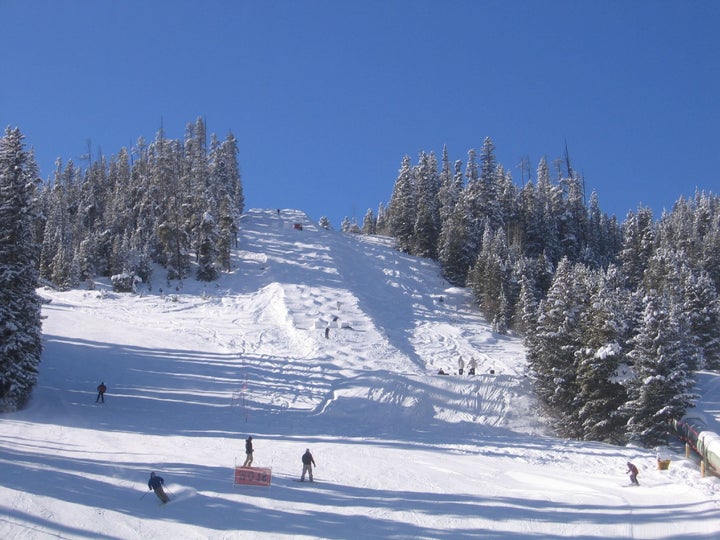 Winter Park Resort in Colorado is a popular destination for skiers and snowboarders. As part of a series on ski resorts, Huffington Post Travel offers our guide to Winter Park Resort, featuring all the key information snow lovers need to know before they hit the slopes.
The Basics
, nestled in the rugged Colorado Rockies, offers plenty of slopes, snow and fun for skiers of all ability levels. The resort is located about 90 miles west of Denver International Airport. It offers an expansive 3,081 total acres of mountainous and off-piste terrain, and features five mountains and six terrain parks, all connected by lifts. Advanced skiers will not be disappointed, since the slopes offer plenty of length and steepness. The resort also offers ski racing teams and hosts a variety of competitions.
The Mountain
The resort, which welcomes skiers from mid-November through mid-April, receives more than 29 feet of snow annually but has snowmaking capabilities as well, allowing slopes to open before Thanksgiving each year. The snow on the mountains is generally a hard-packed powder. Visitors can view live
on the resort's five mountains: Winter Park, Mary Jane, Parsenn Bowl, Vasquez Cirque and Vasquez Ridge. Mary Jane offers bumps, super-steep runs and the highest drop at 2,610 feet, while Parsenn Bowl features the longest trail at 4.6 miles.
Trails And Lifts
Winter Park Resort offers a bountiful
, as well as 1,332 acres of off-piste terrain, including Vasquez Cirque and glade skiing. Fifty-six percent of the runs are for expert skiers, 19 percent for advanced, 17 percent for intermediate and 8 percent for beginners. Mary Jane offers steep, daring slopes and is consistently ranked for having the best bumps in North America. Winter Park Resort features 25 lifts, including two high-speed six-person chairlifts, four triple chairlifts, seven high-speed express quads, six double chairlifts, three surface lifts and three magic carpets.
In The News
Winter Park Resort features a
, which hosts a variety of ski and snowboard events and provides training for competitive skiers and snowboarders. The center features a variety of programs: Alpine racing, freestyle skiing and all-terrain skiing and snowboarding, to name a few. The resort's Athletic Science Program offers personalized training to fine-tune athletes so they can reach their full potential. Freddy Mooney, a six-year member of the U.S. Freestyle Ski Team who trained and competed with the Competition Center, coordinates the program.
Cost
A
to ski at Winter Park Resort costs $63 to $95 for adults 13 and older, with a discount for children and seniors 70 and older. The highest rates are during the holiday season from mid-December to Jan. 1.
are available for $399 to $529 for adults, depending on the level of access desired, with discounts for teens, seniors and children.
ranges from $36 to $50 for ski or snowboard packages, with discounts for advance bookings. The resort offers safety-gear rentals such as helmets and goggles and includes a variety of brands for ski and snowboard rental, including Head, Salamon, K2, Rossingol and Volkl. Private ski or snowboard lessons start at $129, however, group lessons are also available at a discounted rate.
Apres-Ski
Guests at Winter Park Resort can enjoy more than skiing, with
such as ice skating, ski biking, guided snowshoe tours and Snowcat tours of the mountains' breathtaking natural beauty. Resort visitors have access to a full-service travel agency for help finding the best lodging to suit their needs, with options including slope-side villas, bed-and-breakfasts and local hotels. Hot Sulphur Springs, 29 miles away from Winter Park Resort, delivers a full-service spa with natural, hot mountain spring water. Winter Park Resort also helps skiers unwind with luxurious amenities such as hot tubs and fireplaces at slopeside lodgings.
WATCH: Winter Park Resort
Skiers dot the slopes at Colorado's Winter Park Resort.
CORRECTION: This story has been corrected to reflect the most up-to-date information.