Bloomberg's next conquest in his crusade against smoking? Light smokers. That's right, Ms. "I only smoke when I'm drunk" or Mr. "I like a cigarette after dinner"-- our ex-smoker Mayor would kindly like to remind you that you're still killing yourself: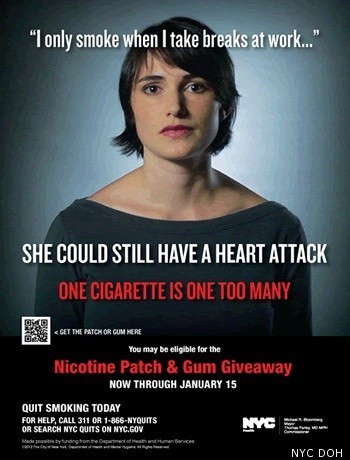 It's all part of a new ad campaign, "One Cigarette is One Too Many," that will include the above poster and a 30-second TV spot that's running in English and Spanish on all broadcast and cable channels from now through Jan. 15.
Light smokers, defined here as those who smoke less than 10 cigarettes a day, comprise %34 of the city's smokers.
And according to the City Department of Health, these sometimes-smokers are still subject to serious health risks:
Adults who smoke even one to four cigarettes per day have nearly three times the risk for heart disease than that of a non-smoker. Another study in Tobacco Control found that women light smokers, ages 35 to 49, are five times more likely than nonsmokers to develop lung cancer. Men have 3 times the risk. Research also points to an increased risk of mortality for light smokers compared with non-smokers. Among women, in fact, light smokers had a 4- to 6-year average loss of life compared to non-smokers.
Bluntly reminding New Yorkers of their mortality one of the Bloomberg administration's favorite tactics. There were skeleton speeding signs, the haiku street safety signs and of course, the stroke-damaged brains in every bodega.
The city is also offering free patches and nicotine gum from now until January 15th. You can call 311 to place your order.