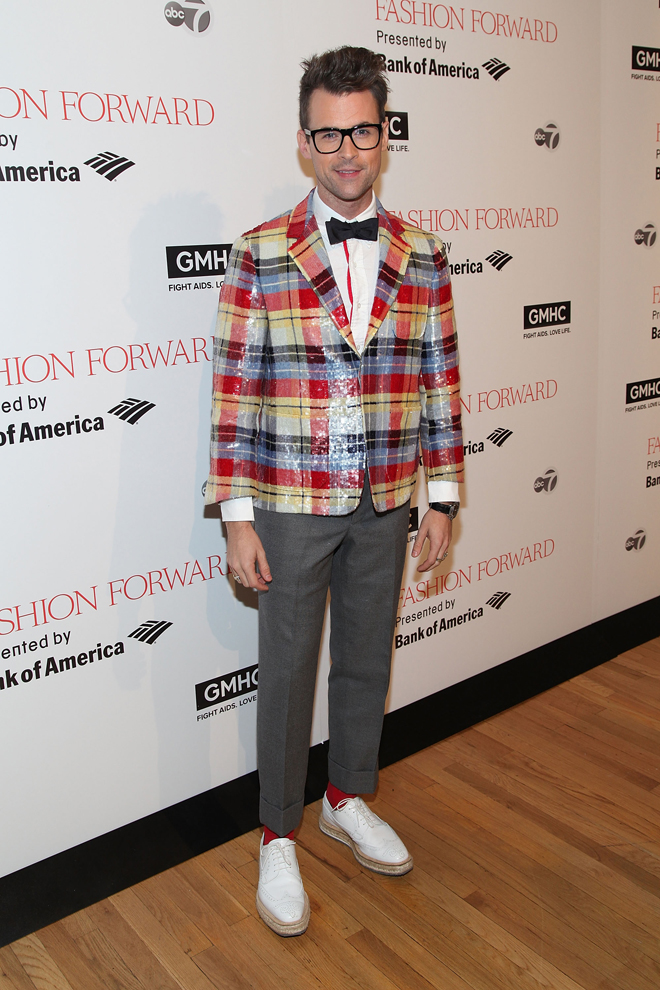 Getty
Fans of "The Rachel Zoe Project" know Brad Goreski as Zoe's bespectacled, bowtie-wearing former assistant. But now, the dapper stylist has come into his own, dressing clients like Jessica Alba, and starring in Bravo's "It's A Brad Brad World," which premieres Monday. We caught up with Goreski to discuss working with celebrities like Alba, his signature accessory and the reality show he never misses.
Why did you want to do "It's a Brad Brad World?"
When I was on Rachel's show, I think the audience really connected with me going through all of my firsts -- my first fashion week and my first time at the Oscars. Initially, I didn't want to do a reality show; I wanted to do a makeover show. And the production company I partnered with said, "You're embarking on this crazy new journey where you're figuring things out. This will be what the audience can really relate to: having seen you excel as an assistant, and try to figure things out as a boss."

What kind of drama on the show can we look forward to?
Just being part of the fashion industry, there's inherent drama. But the drama really comes in all aspects of my life. It's not table flipping and screaming at people. It's more in my relationship with my family, and whether or not I'm going to be able to get a job, let alone have the client want to book me again. The big thread throughout the entire season is, am I building this business that I'm actually going to be able to sustain, because it really does take money to make money. You have to act as a business before you're actually a business.

What does the new series reveal about you that didn't come across on "The Rachel Zoe Project"?
I think the big thing is the focus on my personal life, and my relationship with my boyfriend, Gary. We've been together 10 years now, and have a very interesting dynamic.
How did filming affect your relationship?
I think it was more difficult for Gary than it was for me. He's a writer, and he's never been on a show before. Our lives are very private. We're very much like homebodies, and to have a camera crew there was a bit of a challenge. It's difficult to have someone watching you make tea in the morning. But, he's just so funny and charming and I think the true essence of who he is really comes across. Throughout the filming, we actually learned a lot more about each other. It kind of brought us closer and made us stronger, because we relied on each other a lot. We buckled our seatbelts and went on a little bit of an adventure.
Do you watch a lot of reality TV?
I'm a Bravo addict. I was just recently in London, and a half hour before my car was picking me up to bring me to the airport, my wireless stopped working while I was downloading "The Real Housewives of Beverly Hills." I had a meltdown. I was like, "You have to fix my wireless. I'm getting on a plane and I have to watch 'The Real Housewives of Atlanta and Beverly Hills'!"
What do you think will be the big red carpet trends this awards season?
There are a lot of people to look forward to this year. I think we're actually seeing a transition from super dolled-up to very clean and fresh, with some little extra bit of edge. And I think that's refreshing, because for a while a lot of red carpets just seemed like an overextended prom, as opposed to presenting anything original and new.
Jessica Alba was your first celebrity client. What's it like to work with her?
I just enjoy being around her. She's a great mother, really funny and has really good style. Our fittings are very succinct and quick, and she likes to have fun with fashion.

What's your favorite celebrity look that you've created?
Jessica at the BAFTAs in Atelier Versace. It was my first time working with her at an international red carpet. It was just so perfect and beautiful on her. She was four months pregnant at the time, and it kicked off our maternity red carpet fashion. I think that the color on her, the jewelry, the way she was carrying herself, she looked beautiful.
Who's your dream client?
I'm very interested in dressing Kristen Wiig. I think that the way shes been dressing has been really good, and I feel like I could take it up a notch. She could have an extremely strong red carpet presence.
You're always perfectly coiffed. What do you use on your hair?
Its all about Elnett for me. It's the hairspray of champions. I use this thing called Baxter of California Clay Pomade, before I blowdry to keep it straight. And then I spray it with Elnett and that seals the deal.

Do you have any advice for pulling off a bowtie?
It's easier than people think. I have a rather thin neck, so I can wear the smaller ones, but if you have a larger, more masculine neck, I would tend toward a more medium sized bowtie. You want everything to be in proportion

Do you have a favorite?
One of my favorites is one of the first ones I ever got. it's a black, velvet Garrick Anderson that I bought in London. I probably own, like, 100 bowties. I'm really into these weird, '80s "Duckie from 'Pretty in Pink'" bowties.
CELEBRITY RELATED LINKS YOU LOVE:

Model Moms And Their Children - Daily Beast

12 Celeb Couples To Watch In 2012 - The Frisky

Marilyn Monroe's Persistent Pop Culture Presence - Elle

Emma Stone Really Loves Her Camel Coat - People Style Watch

Dakota Fanning Lands The February Cover Of Elle UK - The Gloss
BEFORE YOU GO