Hi HuffPost Book Club readers! We're here to discuss chapters 1-4 of Tea Obreht's 'The Tiger's Wife.'
For chapters 5-8, meet us over here!
To add to this discussion, please comment below or on our Facebook page, or you can tweet to us with the #hpbookclub hashtag. We want to hear from you.
A little about who you'll be hearing from...
Andrew Losowsky, Books Editor
I'm British, so anything you think I've spelled wrong, is actually just spelled older. I look for stories to take my brain into new spaces, and I'll be particularly discussing the facts as we think we know them, and the clues I think we're being given by the story. Let me know if you think I'm wrong!
Zoë Triska, Associate Books Editor
I was a Literature major so I can't help analyzing every single thing (from the syntax and language to metaphors, similes, you name it). I (reluctantly) admit that I'm one of those people who Googles phrases, places, names every couple of pages when I'm reading. There are constantly things that stump me, though so I'd love to hear your thoughts on the significance of words, places, phrases, events that take place in the book.
Madeleine Crum, Assistant Books Editor
I like looking at language particularities, but in case you think that's a snooze (you wouldn't be alone), I'm also interested in reading what critics say about books and whether their reviews are spot on or way off. Let's talk about it.
Annemarie Dooling, Community Editor
Quotes, locations and descriptions speak to me the same way characters do. I love dissecting the same details that tell us more about the story than the actual prose. If you read the same books over and over and over again the same way you visit an out-of-town friend, we're going to get along just fine.
01/16/2012 12:47 PM EST
@ ABookNut :

Dreamt about zoo animals in a hotel lobby. (Giraffe was very sweet). #readingtigerswife #hpbookclub
01/16/2012 12:44 PM EST
@ saumyasharma19 :

"Pain and fear are immediate, and when they're gone, we're left with the concept, but not the true memory." - The Tiger's Wife #hpbookclub
01/14/2012 9:51 AM EST
Chapter 4: "The Tiger"
Hello book clubbers! I've been enjoying "The Tiger's Wife" while reading on the subway!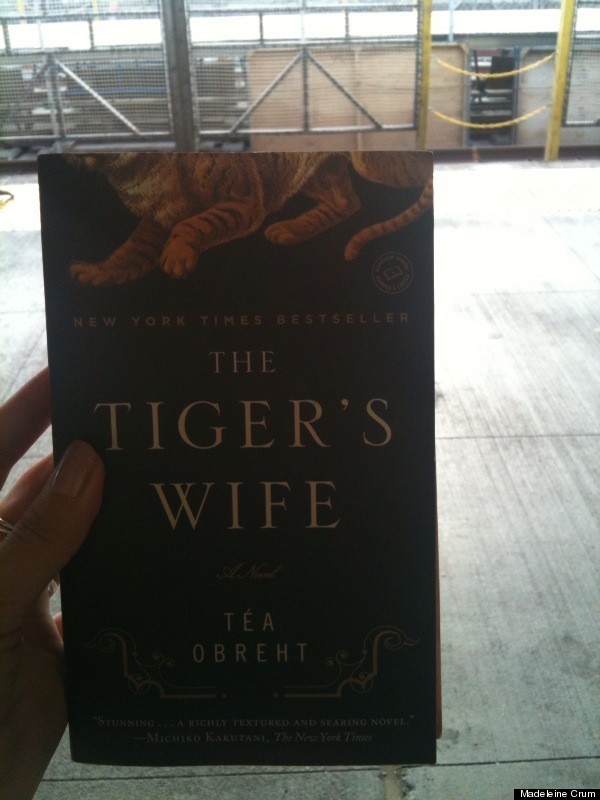 So. Chapter 4 begins with a bombing that frees a tiger from a zoo in 1941.
What did you think of Chapter 4 themes? Let us know in the comments, via email at hpbookclub@huffingtonpost.com or on Twitter at #hpbookclub!
-Madeleine
01/14/2012 9:33 AM EST
One reader's comments on Chapter 4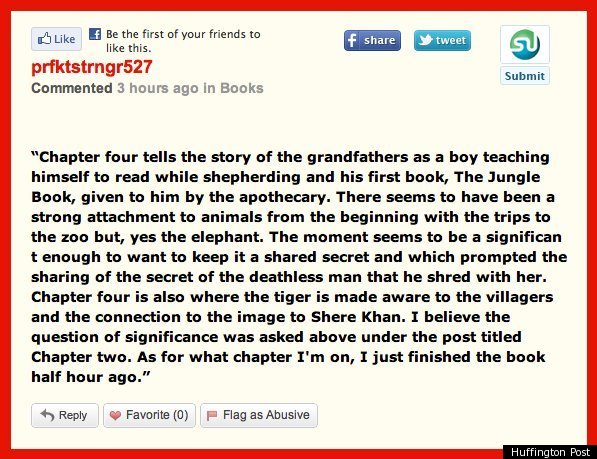 01/12/2012 4:08 PM EST
Zoë's feelings on the book thus far (and Natalia)
Admittedly, I've only read through Chapter 3. So as a disclaimer, there's a good chance I'll change my mind later in the book.
Thus far, I really don't like Natalia. My reasons for this are completely personal. I think the main reason is because I can't relate to her at all. I find her very cold, overly skeptical, and cynical. She seems unemotional about so many things.
01/12/2012 3:39 PM EST
Chapter 3: "The Diggers"
Chapter 3 continues with themes that are seen in the book.
-Zoë
01/11/2012 6:43 PM EST
Cozy reading
@ saumyasharma19 :

.@HuffPostBooks curled up in bed on a freezing winter morning,reading the tiger's wife on my kindle = heaven on earth!! #hpbookclub
01/10/2012 10:40 PM EST
Comment on the soul's journey home by "andresmarin:"