Blake Griffin -- all 250 lbs. of him -- is dripping wet on this month's cover of Men's Health magazine.
At times, the 22-year-old Los Angeles Clippers power forward seems to carry the weight of the world on his shoulders when it comes to re-invigorating what Men's Health called "the NBA's most pathetic franchise." But this article shows that Griffin seems to be taking it all in stride -- and with a zen attitude, to boot.
So far in the early season he's averaging 26 points and 9.8 rebounds per game, but Men's Health reveals that his physical dominance comes from a strong mental game: bringing the energy, staying positive and leading the team, even when they're off-court.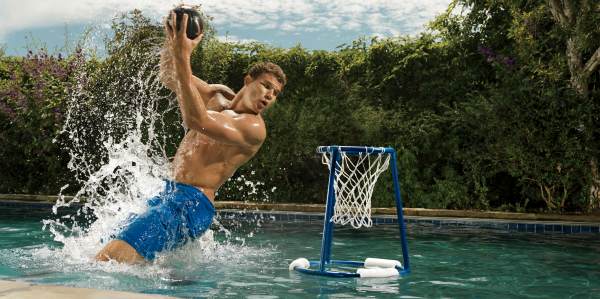 Photo by Randi Berez/Men's Health. In this photo, Blake is wearing Orlebar Brown's Dane swim trunks.
During the NBA lockout last summer, Angelenos got to see a different side of the Rookie of the Year. After gym time, Griffin would hit the Funny Or Die offices for an unpaid internship learning how to produce (and star in) viral comedy films.
WATCH:
The Los Angeles Times notes that a focus on the 2011 Rookie of the Year (and slam dunk champ) is a "refreshing change of pace for a two-team town" that tends to favor Kobe and his court, and we're inclined to agree. Based on the Lakers' most recent games and the Clippers' exciting new line up, we'd say that Los Angeles might be repping more red and blue (and less purple and gold) this year.