Brandi Glanville started 2012 with a new husband -- or so she made it seem.
The "Real Housewives of Beverly Hills" cast member surprised her Twitter followers when she revealed she was tying the knot with friend Darin Harvey in Las Vegas over the New Year's holiday.
"Getting married @darinharvey !!!" she tweeted Jan. 1.
Glanville, who was once married to actor Eddie Cibrian, continued tweeting, writing to Harvey, "Don't worry I think we can get it annauld! [sic] If not I will take the ferrari! Luvu :)"
The next morning, it seems Harvey didn't exactly remember his commitment from the night before.
"Did we really do it," he wrote to Glanville. "Remember Elvis then blacked out. Did I have you sign anything?"
Glanville told him that yes, they were man and wife, adding. "No pre nup D!"
However, after all the New Year's celebrations were over, Glanville decided to clear up any notion that she and Harvey are actually married, with Harvey calling their Vegas nuptials a "drunken BFF thing."
"We got carried away by getting married!" Glanville wrote on Jan. 2. "I didn't realize what we did wuld [sic] affect others so seriously! In my head I was just having fun w/ my best friend who I adore & has been there for me during all my tuff [sic] times!"
"It[']s not legal! We were just having fun!" she continued, adding, "It was just a ceremony people! Not legal no paperwork was done!"
Harvey later clarified that all the wedding talk was just a fun stunt between friends.
"@BrandiGlanville and I wanted to shock the world," he tweeted. "Never though it would get this far.. Sure was fun though. We are bff's and still single."
It looks like this "Housewife" is still on market, but at least she has one memory from her Vegas "wedding." Check out the photo Glanville tweeted of her "wedding" to Harvey below!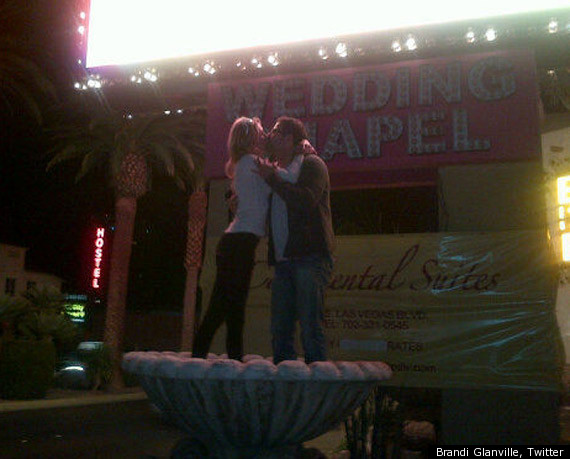 PHOTO GALLERY
The Real Housewives of Bravo
BEFORE YOU GO