After emerging victorious in the Ames Straw Poll last August, U.S. Rep. Michele Bachmann has traversed a rocky road in her pursuit of the White House.
Bachmann, who has run an Iowa-centric campaign, tried to keep her head up ahead of the Hawkeye State contest. In the wake of grim poll numbers in Iowa, she predicted something "miraculous" would happen to help her chances in Iowa. In an interview with ABC News, the Republican hopeful said, "We're believing in a miracle because we know, I know, the one who gives miracles."
Last week, Bachmann's Iowa campaign chairman abandoned her operation and threw his weight behind rival contender Ron Paul's candidacy. The conservative congresswoman alleged that her one-time ally made the move in exchange for money. HuffPost's Jon Ward and Elise Foley report:
Kent Sorenson, the Iowa state senator who served in the Bachmann campaign, denied the allegations and said he accepted no money for his endorsement. Sorenson is "leaving his post as Iowa chairman for U.S. Rep. Michele Bachmann's presidential campaign here," according to a statement from the Paul campaign. "The resignation and endorsement take effect immediately."

Sorenson said he did not tell the Bachmann campaign before he announced his endorsement of Paul, and appeared at one of her events earlier on Wednesday. He told HuffPost late Wednesday that his decision was made only 10 minutes before he took the stage at a Paul rally in Des Moines to say he would support Paul instead of Bachmann.

He said he probably would not have supported Bachmann in the first place had Paul been in the race when she first announced her candidacy.

Bachmann's campaign fired back after the announcement, saying it was an attempt to "throw cold water on our growing momentum."
The Polls
HuffPost's Mark Blumenthal reports:
The latest poll of Iowa's likely Republican caucus-goers provides more evidence of a race headed toward a photo finish, with Ron Paul, Mitt Romney and a surging Rick Santorum running within two percentage points of each other.

The automated poll conducted by the Democratic Party-affiliated firm Public Policy Polling (PPP) shows Ron Paul at 20 percent, Mitt Romney at 19 percent and Rick Santorum at 18 percent on a survey for which PPP reports a margin of error for each candidate of +/- 2.7 percent. Running farther back are Newt Gingrich at 14 percent, Rick Perry at 10 percent, Michele Bachmann at 8 percent, Jon Huntsman at 4 percent and Buddy Roemer at 2 percent. PPP interviewed 1,340 likely Republican caucus goers on December 31 and January 1.
...
PPP's results and trends are mostly consistent with those on a half-dozen other polls released in the last week. HuffPost Pollster's chart, based on all public polls in Iowa, currently shows Mitt Romney leading with 22.5 percent, Ron Paul in second but fading slightly to 19.1 percent, Rick Santorum rising fast to 17.1 percent, and Newt Gingrich still falling and now at 12.9 percent.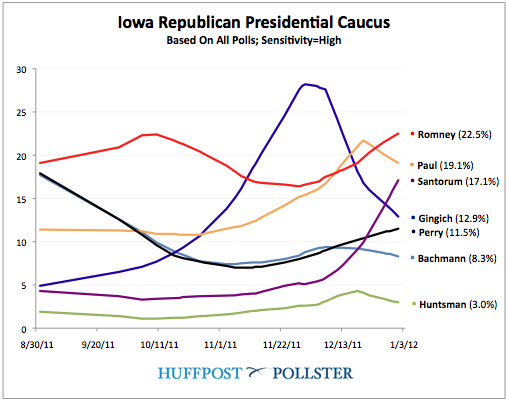 For more on Bachmann's campaign, check out the slideshow below.
PHOTO GALLERY
Michele Bachmann 2012