After surging in the polls on the heels of announcing his candidacy last August, Texas Gov. Rick Perry's campaign took a turn for the worse. A series of missteps led the presidential hopeful's numbers to slide and he's since struggled to recover from the setback.
Ahead of Tuesday's Iowa Caucus, Perry is trailing rival contenders former Massachusetts Gov. Mitt Romney, U.S. Rep. Ron Paul (R-Texas), former U.S. Senator Rick Santorum (R-Pa.) and former House Speaker Newt Gingrich.
In a plea to supporters on Monday night, Perry continued to push for an unlikely comeback in the race for the Hawkeye State.
The Big 'Oops'
During a presidential primary debate last November, Perry made what became an unforgettable gaffe when he struggled to name three federal agencies he would like to see abolished. "Oops," he said.
HuffPost's Jon Ward reported at the time:
Perry has already been beset by unforced errors in his less than three months as a presidential candidate, but this topped all of his previous gaffes. It was a moment that very well might have extinguished his chances of coming back and competing with Romney.
Since then, Perry has hit bumps in the road in trying to keep his presidential ambitions alive. What the outcome of Tuesday night's Iowa Caucus will mean for the Lone Star State Republican's candidacy remains to be seen.
The Polls
HuffPost's Mark Blumenthal reports:
The latest poll of Iowa's likely Republican caucus-goers provides more evidence of a race headed toward a photo finish, with Ron Paul, Mitt Romney and a surging Rick Santorum running within two percentage points of each other.

The automated poll conducted by the Democratic Party-affiliated firm Public Policy Polling (PPP) shows Ron Paul at 20 percent, Mitt Romney at 19 percent and Rick Santorum at 18 percent on a survey for which PPP reports a margin of error for each candidate of +/- 2.7 percent. Running farther back are Newt Gingrich at 14 percent, Rick Perry at 10 percent, Michele Bachmann at 8 percent, Jon Huntsman at 4 percent and Buddy Roemer at 2 percent. PPP interviewed 1,340 likely Republican caucus goers on December 31 and January 1.
...
PPP's results and trends are mostly consistent with those on a half-dozen other polls released in the last week. HuffPost Pollster's chart, based on all public polls in Iowa, currently shows Mitt Romney leading with 22.5 percent, Ron Paul in second but fading slightly to 19.1 percent, Rick Santorum rising fast to 17.1 percent, and Newt Gingrich still falling and now at 12.9 percent.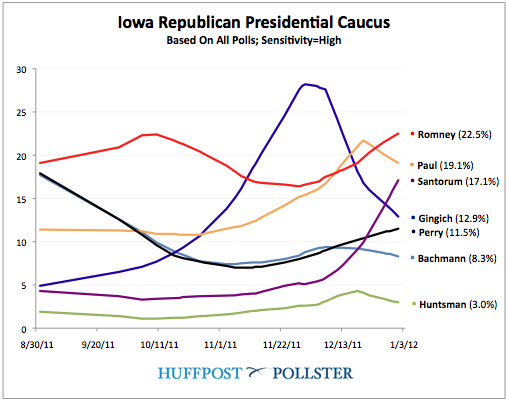 For more on Perry's campaign, check out the slideshow below.
PHOTO GALLERY
Rick Perry 2012