She's a 17-year-old actress, model, fashion icon in-the-making, and now, Cosmopolitan cover girl. Dakota Fanning poses on the cover of the February 2012 issue of Cosmo in a pink beaded dress next to a headline that reads "His Best Sex Ever" and a teaser for a sex tips article that says, "Too Naughty To Say Here."
Although Fanning is no stranger to magazine covers, having been featured on the cover of publications like Marie Claire, Teen Vogue, V, and this month, Elle UK, her most recent cover has raised questions about the appropriateness of sexualizing a 17-year-old.
Her sexualization is precisely the subject of the cover story on Fanning, who turns 18 next month. Entitled "Welcome to Your Cosmo Years, Dakota," the story tracks the young star's style evolution and journey to womanhood.
And this isn't the first time Fanning has raised eyebrows in the media world. Last month, her ad for the Marc Jacobs fragrance "Oh, Lola!" -- which depicts the young star with an oversized fragrance bottle placed provocatively between her legs -- was banned in the UK.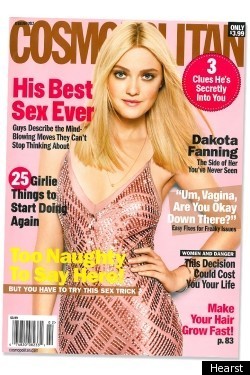 BEFORE YOU GO
PHOTO GALLERY
dakota fanning covers