For design devotees, it's impossible to hear the name of Deborah Needleman without feeling a tinge of nostalgia for Domino, the much-loved, now-gone magazine where she served as founding editor in chief. (And we feel the same about Veranda editor in chief Dara Caponigro, who was Domino's style director.) But life goes on. Deborah has been editor of WSJ. magazine since 2010, bringing out a must-read mix of photo-driven culture content, personality profiles and, of course, amazing design.
Now with her new book, "The Perfectly Imperfect Home," she goes back to her decor roots. The beautifully illustrated guide features tips and tricks for making your home reflect your personality, rather than something out of an, um, magazine.
We caught up with Deborah to get her take on home decor, life and why your house needs "a little bit of ugly."
The standard question: What inspired you to write this book? And how does it differ from others on the market?
Unemployment was a big inspiration for writing this book! But so often books come at decorating from the point of "how to," rather than "why bother?" or "what for?" This book starts from the point of asking what you want your house to do for you -- and then showing you how to get it there. I want my house to be beautiful in a way I find inspiring: layered and personal so that it's visually rich; a bit quirky and amusing; inviting and comfortable for friends; to create a sense of freedom and safety for my children; to be orderly enough to keep me from being more nuts than necessary. The point of this book is to give you ideas about how to make your home really nice, and then for you to just get over it and get on with the nice living that a nice home can encourage. It's all very nice.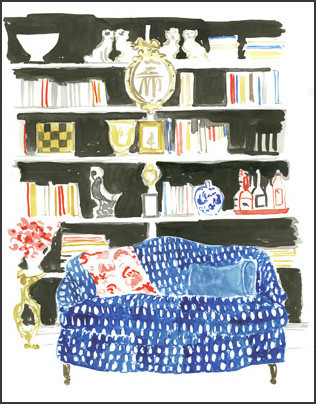 This is a gorgeous book. The question is: Why did you go with illustrations rather than photos?
It never occurred to me to go with photos. The illustrations are so nice and, well, illustrative. I wanted readers to focus on the ideas -- that piles of books look cozy, or that furniture pulled away from the walls looks better, or whatever -- not on the specifics of what any particular person has in their house.
How do you convince people that decorating is important?
I've never tried to convince anyone of it. I am always shocked though that people, even decorating obsessives, don't seem to realize how vital and powerful a force decorating can be to our lives. I just know the difference a nice interior can make to my mood, my ability to think, my willingness to have people over. At Domino, we did a project once where, with a group of decorators, we decorated 40 apartments for women living with HIV. I always wish we went back a year or two later to see how those homes affected those lives. My hope was that the clarity and the beauty of the spaces would make the women more patient with their children, better able to make decisions, more confident about going out into the world, etc.
Speaking of Domino ... how does this book differ from "Domino: The Book of Decorating"?
This book is about an attitude, a way of living and decorating. I've tried to steal all the best secrets of the most innately stylish people on earth and also to show that great style comes not from having any particular objects or style of interior but from an attitude of graciousness, laissez faire-ness, expansiveness, a not-taking-things-too-serious-ness. "Domino: The Book of Decorating" helps you find your style and shows the basics of decorating. "The Perfectly Imperfect Home" helps you make a house that is charming and chic, inviting and inspiring, whatever your style. In other words, it's about creating a home that enhances your life -- and the lives of your friends and children. Or that's the idea anyway.
What's your favorite decorating tip in the book?
Hmm, fave tip. I love them all. They are like my children.
Our favorite chapter was "A Personal Narrative," where you really put the emphasis on how our homes shouldn't necessarily be decorated with a capital D, but more reflective of how we live. Can you talk a little more about that?
The whole book really is about creating a narrative. Your home should be a narrative -- a flattering and largely realistic portrait of you.
I was just thinking about Christopher Hitchens' house. His apartment remained at the same stage of unfurnishedness over the 20 years I knew him, and I think it reflected and suited him perfectly. It was fantastic for big parties because there was almost no living room furniture to bother about; there was always a table in the dining room for dinner parties and a nice spot for a drink and chat in the sort of library area. It had personal things and funny things, but not so many things that it weighed him down or showed any attachment.
He was a public intellectual; I am an unrepentant homebody. I need my house to envelop me.
All houses should have little things around that bring you joy -- things I call "jollifiers." These things can be anything -- children's drawings, animal figurines, those little personal "smalls" that no decorator could ever buy you. Your home needs those bits of things accumulated along the way in your life -- pictures or textiles or objects brought back from trips and maybe even a thing or two that has attached itself to you that you never even meant to keep. The tips in the book tell you quite bossily how to deal with these things so that you don't end up living in tchotchke-ite clutter.
Decorating with a capital D, as you call it, can lead to a house that is impressive but less often one that is warm, happy, personal and inviting.
We also loved the chapter on "Cozifications." Why do you feel that people need to add cozy touches to a room?
"Cozifications" is the word I use to describe those things that are essential to making a house look and consequently be comfortable. Soft pillows and throws, old rugs, ethnic textiles, a bit of patina, baskets, faded colors -- these things humanize a space and put people at their ease. Dwell magazine rooms are often without cozifications. Those rooms are sort of one-dimensional; cozifications add layers to a room. If you have cozifications, coziness will come. You don't want to overdo it though.
In the same vein, why do you feel that a room needs "a little bit of ugly"?
Ha! Yes, all houses need a bit of ugly. This could be a less than beautiful piece of furniture, but mostly I mean some dull, drab colors to ground a room with a little gravitas, so that all is not just pretty and sweet and boring. A lot of young decorators like pretty things and don't realize that an entire room of lovely colors looks saccharine and cartoony. The value of some soft black, olive green or dull gray in the furniture, wallpaper or rug is to tone things down a bit. It's like adding something a little butch or tough, like a big belt or a leather jacket, to a sweet, flowery dress. Beauty often has a bit of a dark edge, whereas pretty doesn't.
For more tips and tricks, check out "The Perfectly Imperfect Home" on Amazon.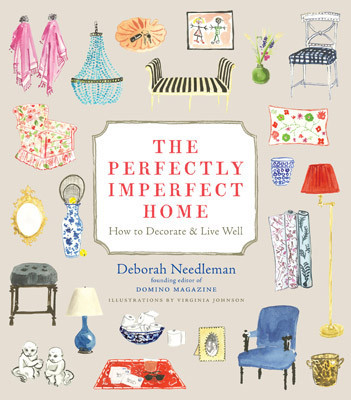 Photos reprinted from "The Perfectly Imperfect Home" by Deborah Needleman. Copyright © 2011. Illustrations copyright © 2011 by Virginia Johnson. Published by Clarkson Potter/Publishers, a division of Random House Inc.