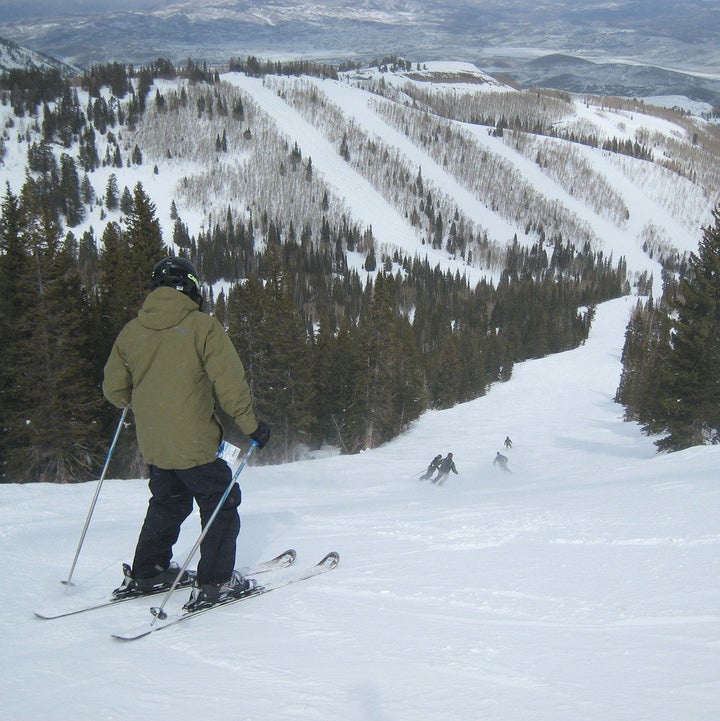 is one of the largest ski resorts located close to a major metropolitan area, which has its pros and cons. Situated only 37 miles from the Salt Lake City International Airport, the resort gets crowded in the high season. Fortunately, there's plenty for everyone to do. Skiers have access to
and nine bowls on eight peaks, with a total of 3,300 skiable acres. The former mining village retains its historic charm and is listed on the
, but it's also highly developed, with dozens of bars and restaurants.
is 10,000 feet tall with a vertical drop of 1,305 feet from the Silverlode lift. The season usually begins in mid-November and lasts through mid-April. When snowfall isn't up to snuff, the resort has the capacity to make enough snow to cover 500 acres from the base to the summit. The region normally gets
per year.
Of the park's 114 trails, only 17 percent are recommended for beginners, while the rest require an advanced or expert skill level. The longest run, known as Homerun, stretches for a little more than three miles. Park City Mountain's 16 lifts include four fast-moving, six-passenger chairs, three quads, seven triple-chairs and two double-chairs. The resort also provides three magic carpets, which are basically moving sidewalks.
is available from late December through mid-March on the popular Payday run, and the resort also has a
.
The
is headquartered at Park City, which is a testament to the wide variety and overall quality of the skiing available at the resort. The
opened its Center of Excellence here in 2009. The 85,000-square-foot training facility aims to produce Olympic champions in an intensive college-like atmosphere. Park City's already high prestige got another boost in 2011 when it won a
from the National Ski Areas Association. The resort was lauded for reducing its carbon footprint by 54 percent during the previous ski season.
are $96 for adults, $60 for children 7 to 12, $64 for seniors 60 and older and free for children 6 and younger. Five-night
start at $179 per night for a one-bedroom condo and go up to $995 per night for a two-bedroom, two-bath condominium with a gourmet kitchen, fireplace and a hot tub. Basic
, which includes skis, poles and boots starts at $22 per day. Helmet rental is $8 per day. For those whose skills have grown a little rusty, half-day group
for adults during the regular season start at $99.
The bustling main street of the resort village has grown into a world-class restaurant row. For top-notch Asian fare, try Wahso, which serves up masterful seafood, including miso black cod. The
has won multiple awards for dishes like Utah red trout and macadamia nut crusted halibut. The Celsius Lounge and Mother Urbans Night Club are open until 2 a.m. almost every night.