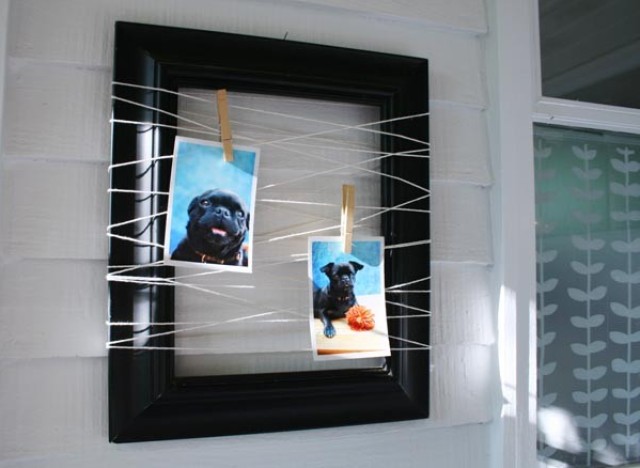 Photo by Bryce Toney of Sweet Peach and Curious...
Usually, you put a picture in a frame. But, in this Craft Of The Day, we're trying something different -- we're wrapping twine around a frame and clipping photos in front of the frame. Almost like an inspiration board, this cost-effective solution bypasses the normal glass front and any inexpensive frame you find can be used. Added bonus: to change the look of the frame, all you need is a simple paint job, so it'll never get old!
What You'll Need
Wooden picture frame
Spray paint
Sandpaper
Twine
How To Make It
1. Lightly sand the wooden frame to smooth the edges.
2. Spray paint the frame with a color of your choosing.
3. Wrap twine tightly around the frame, either in a zig-zag, horizontal or vertical configuration.
4. Tie a knot in the twine to keep it in place. (You can add glue if the strings are loose).
5. Hang up your frame and use clothespins or clips to hang your photos.
For a complete photo tutorial, visit Sweet Peach. And, be sure to check out the other great crafts in our Craft Of The Day slideshow below.
PHOTO GALLERY
Craft Of The Day