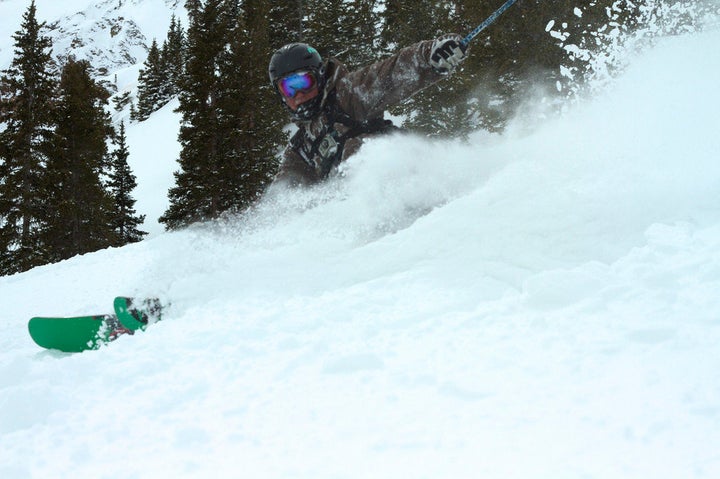 Silverton Mountain in Colorado is a popular destination for skiers and snowboarders. As part of a series on ski resorts, Huffington Post Travel offers our guide to Silverton Mountain, featuring all the key information snow lovers need to know before they hit the slopes.
The Basics
is located one hour north of Durango, Colorado. The Durango-La Plata County Airport sits some 52 miles away; approximately a six-hour drive from the Denver metro area. The ski resort opens in November and closes in late April or early May. Silverton Mountain is one of several ski resorts in the area, including Telluride, Purgatory and Wolf Creek. Silverton Mountain is attractive to skiers and snowboarders who do not like crowds.
The Mountain
Silverton Mountain is the highest ski area in North America, with a peak at 13,487 feet.
is also the steepest in North America and includes a vertical drop of 1,900 feet. The ski area gets more than 400 inches of snow each year, providing fresh powder and new terrain almost daily. Skiers have access to 1,819 acres of skiable area that includes both long and short runs. Guests can also take part in the
, which is a full day of skiing or snowboarding in the backcountry of the San Juan Mountains.
Trails And Lifts
The one
at Silverton Mountain takes guests to the top of the summit, where they can choose the trail they would like to take down. A helicopter is another way of transporting guests to the top. The mountain is left in its natural state, giving skiers access to a variety of bowls, chutes, cliffs and natural terrain. Silverton Mountain is for advanced and expert skiers only and does not offer trails or runs for beginning or intermediate skiers.
In The News
Silverton Mountain boasts a one-woman ski team,
. Suzanne Graham gained exposure for her part in a commercial filmed at Silverton Mountain. She explained that it was for a "Russian oil company sponsoring the 2014 Olympics, and also for the Red Bull Cold Rush." The ski area also hosts the Red Bull Cold Rush race. Suzanne Graham took fourth place in this race in 2010.
Cost
Silverton Mountain offers single-day
in addition to four
options. The 10-day pass costs $299 and gives guests unguided skiing access for 10 days at Silverton Mountain plus six free days at other ski resorts in Colorado. For guests who prefer buying one-day tickets, the G-Pass is a good option and costs $99. This pass enables guests to purchase one-day unguided ski tickets for $39 each. The Solid Gold Pass is priced at $1,499 and includes unlimited, unguided skiing and 10 days of guided skiing. Solid Gold Pass holders also receive 15 free days at other ski areas in Colorado. Another option is the Unguided Season Pass, priced at $399. It gives guests unlimited access to unguided skiing and 15 free days of skiing at certain Colorado ski resorts. Silverton Mountain offers
, which run between $35 and $45. Skiers and snowboarders can also rent gear, such as backpacks, helmets and poles.
Apres-Ski
The
is a popular dining spot at Silverton Mountain and is located on the main street. The cafe serves breakfast, lunch and dinner. Mother Kluckers is another option serving up wings and broadcasting sports games. Four other local restaurants give guests choices of burgers, steaks, sandwiches, pizza or coffee and dessert. Guests can get a cold drink at the Miners Tavern. The ski area also has shopping areas, massage options and Southwest Adventure Guides.
WATCH: Silverton Mountain
Watch guests snowboarding the steep terrain at Silverton Mountain.