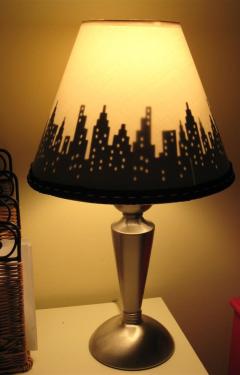 Photo by Jo of Chica And Jo
Thanks to cold temperatures and too-short daylight hours, we don't see ourselves spending a lot of time outdoors any time soon. So, in this Craft Of The Day, we decided to turn our attentions to jazzing up our interior lighting. And, what better way to do this than with a little whimsy like in this magical skyline lamp shade. By day, the lamp shade is white, but by night, when the bulb turns on, a sparkling skyline will appear!
What You'll Need
Black construction paper
Lamp shade
X-acto knife
Spray Glue
Template (long skyline or individual buildings)
Pencil
Scissors
How To Make It
1. Print and cut out out your template.
2. Trace around the template using a pencil to transfer the image onto the black construction paper.
3. Cut out the buildings using scissors and add windows using a X-acto knife.
4. Use spray glue to adhere the construction paper to the inside of your lamp shade.
5. Turn on your lamp and the skyline will appear!
For the Cricut instructions, visit Chica And Jo. And, be sure to check out the other great crafts in our Craft Of The Day slideshow below.
PHOTO GALLERY
Craft Of The Day