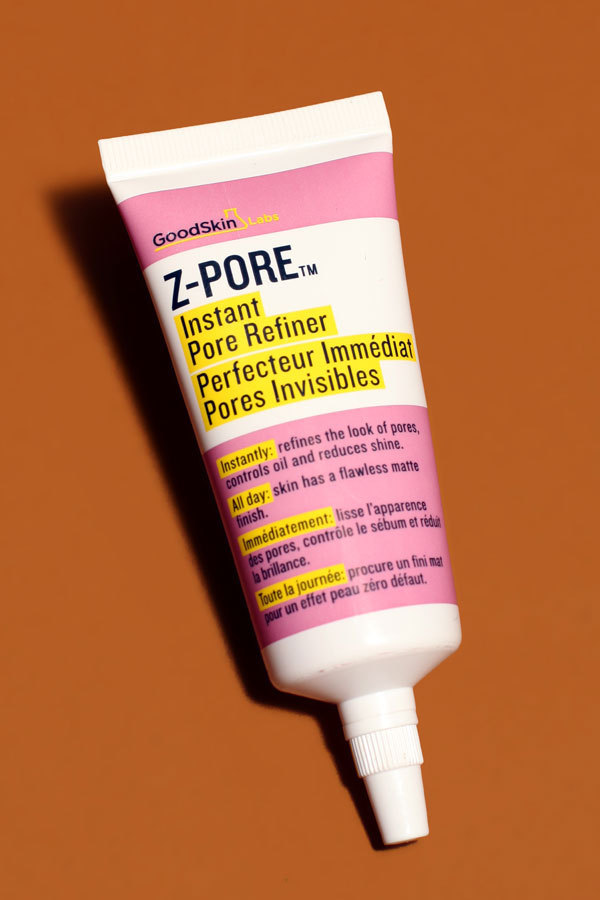 GoodSkins Lab Z-Pore Instant Pore Refiner. Photo: Bobby Doherty.
I don't exactly have huge craters on my face, but each time I peer into my compact I cringe at the sight of enlarged pores on my cheeks and nose. And while there are pricey facials, peels and other treatments to get picture-perfect skin like Halle Berry, I'd rather not shell out the money when there are far easier options. Enter GoodSkin Labs Z-Pore Instant Pore Refiner.
This subtly-tinted cream has a velvety texture thanks to its vitamin E, silicone and mica-based formula. I've been using Z-Pore for about a month and have noticed that I've stopped reaching for blotting sheets and the pores around my nose appear less in-your-face. Plus, it doubles as a primer -- making foundation application smoother... and posing for TwitPics a bit less stressful.
But be warned: a little goes a long way! Apply too much product and you could end up looking like this.
Do you have enlarged pores or oily skin? What products or treatments have you tried? Let's discuss in the comments section.
GoodSkin Labs Z-Pore Instant Pore Refiner, $25, available at Kohl's stores and kohls.com
BEAUTY RELATED LINKS YOU LOVE:

2 Easy Steps For Curing Tired, Puffy Eyes - BellaSugar

Boho Nail Art Tutorial From Free People - Refinery29

What Do You Think Of Rihanna's Ringlets? - Glamour

The Sexiest 5-Minute Makeup Looks - Allure

Beauty Rules That Are Okay To Break - DailyMakeover
BEFORE YOU GO