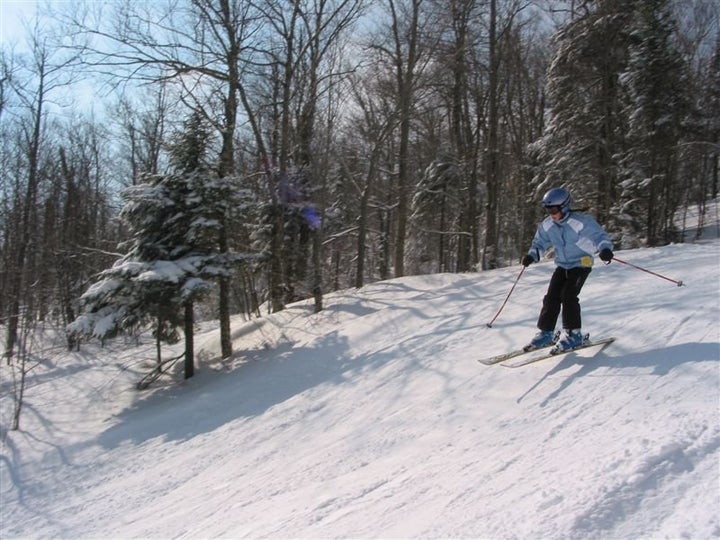 Okemo Mountain Resort in Vermont is a popular destination for skiers and snowboarders. As part of a series on ski resorts, Huffington Post Travel offers our guide to Okemo Mountain Resort, featuring all the key information snow lovers need to know before they hit the slopes.
The Basics
Since its origins as a small, community-run ski hill,
has grown to be one of the most well-known ski destinations in Vermont. Located in the south-central town of Ludlow, the mountain was
who expanded the resort to 632 acres of terrain. Okemo Mountain is within 4 1/2 hours from most
, and two hours from Hartford Bradley, Albany and Manchester airports. Because Okemo has a balanced mix of difficulty while also offering a variety of other activities, such as snow tubing, it is an especially good choice for families.
The Mountain
Beginning in early November and lasting through late April, skiers can enjoy five mountain areas: Jackson Gore Peak, Solitude Peak, South Face, Glades and South Ridge. At 2,200 feet, Okemo offers the
and averages 200 inches of snowfall each year. But, like nearby resorts Stratton and Mount Snow, a skier's experience will largely depend on the weather conditions. Even so, with 96 percent man-made snow coverage, most skiers and snowboarders won't strain to find enough snow to carve an edge into.
Trails And Lifts
Okemo features
that include five high-speed quads, four quad chairs, three triple chairs and seven surface lifts. Beginner, intermediate and advanced/expert trails are well distributed throughout the mountain, with about 1/3 for each skill level. Ambitious skiers and snowboarders who wish to take to the skies will find no shortage of suitable launchpads: Okemo maintains six terrain parks as well as a superpipe.
In The News
Okemo Mountain Resort is the home to gold medalist Ross Powers, who acts as the official
. He can also be seen slamming the superpipe at Okemo in
which shot segments of the film on location at Okemo. Powers also runs snowboarding camps to benefit his nonprofit, Ross Powers Foundation, to help athletes financially.
Cost
On weekdays, an
, with prices increasing during the weekend and during peak times of year. The resort also offers frequent skier packages, season passes, discounts for groups as well as special offers. Everything required to ski safely can be rented at the mountain, including snowboards, skis, poles, boots, snowblades, snowshoes and helmets starting at $40 a day for an adult. Likewise, Okemo offers
for $110 per hour as well as
for both kids and adults starting at $55.
Apres-Ski
Okemo offers many options after the lifts close down. Fun for the whole family includes a new snow tubing park, the Mountain Coaster. Kids enjoy a 20-foot high pile of snow in the courtyard of the resort's
for some last minute slides. Okemo also offers shopping in nearby Ludlow and Manchester. Dining and bar options like the Coleman Brook Tavern and Italian restaurant, Siena, are near the mountain.
WATCH: Okemo Mountain Resort
Even early in the season, skiers and snowboarders can enjoy some great conditions at Okemo Mountain Resort.