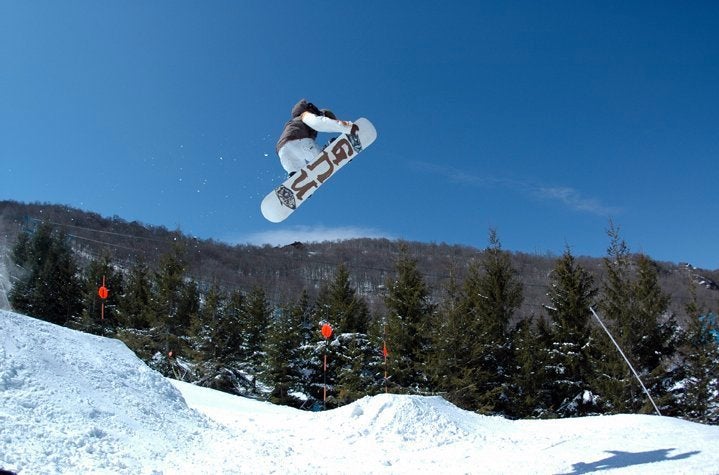 Beech Mountain in North Carolina is a popular destination for skiers and snowboarders. As part of a series on ski resorts, Huffington Post Travel offers our guide to Beech Mountain, featuring all the key information snow lovers need to know before they hit the slopes.
The Basics
is situated high in the Blue Ridge Mountains of western North Carolina in the town of Beech Mountain. The resort is a popular vacation destination catering to all skill levels, attracting families, couples and groups. The resort is less than three hours from the major North Carolina airports of Charlotte Douglas International Airport and Piedmont Triad International Airport in Greensboro. Beech Mountain has the distinction of being the highest elevated ski resort in the eastern United States.
The Mountain
Beech Mountain, with 95 skiable acres and 16 slopes, tops off at 5,506 feet and has a vertical drop of 830 feet. The annual snowfall of 80 inches is supplemented by the resort's snowmaking capabilities; 10 new SMI Super PoleCat snowmakers were recently installed. The ski season usually starts in December and ends in March, offering 100 days of skiing day and night. In addition to skiing and
, Beech Mountain is a venue for ice skating, sledding and snowshoeing.
Trails And Lifts
The 15 trails at the resort include two for beginners, seven for intermediate skiers and four for experts. The resort also has two
. Of the two terrain parks, one is for beginners and the other, which was opened in 2009, is for advanced skiers and snowboarders. There are 10 lifts: a high-speed quad that offers a panoramic vista, a fixed-grip squad, five doubles, one J-Bar and two handle pulls.
In The News
Beech Mountain's
weekend takes place each January, and in collaboration with the town of Beech Mountain, the resort hosts the North Carolina State Championship Snowshoe Race, which includes 5K and 10K courses. Tradition is a mainstay at the resort, and for three decades, Beech Mountain has hosted
, a four-day clinic that teaches people with disabilities to ski and snowboard. Disabled Sports USA and the Patricia Neal Rehabilitation Center sponsor the event.
Cost
Single-day
are $20 to $30 on weekdays and $25 to $60 on weekends. Sunday twilight tickets are $50 for ages 13 to 64 and $40 for children 5 to 12. Seniors 65 to 69 also pay $40, while those 70 and older ski free. Children 4 and younger accompanied by a ticketed adult also ski free. Adult season passes are $500 and $450 for a second adult. Additional family members are $400 each. Individual passes for juniors, seniors and students are $425. Group rates for
are $20 an hour, while private lessons for ages 8 and older are $50. Add another person to private lessons for an additional $20 per hour. Ski and snowboard rentals range from $9 to $35. Coats, boots, skis and poles can be rented either individually or as a package.
Apres-Ski
After a day of skiing, guests can kick back and relax at Beech Mountain's
or warm themselves at Beech Mountain Bakery with hot chocolate or coffee. The Beech Tree Bar and Grill offers pizza and burgers for hungry skiers and snowboarders. For shopping, Fred's General Mercantile sells produce, bread and eggs, as well as T-shirts and hardware.
WATCH: Beech Mountain
Beech Mountain Resort has 15 trails, ranging from easy to difficult.