Temperatures in Chicago could reached 50 degrees on Tuesday, and the mild winter streak that some Windy City residents can get used to will continue into Wednesday. The balmy weather is expected to end Thursday -- but the city might break a few weather records before then.
As Chicagoist points out, the city has seen 1.9 inches of snow this season, making it the fourth-least recorded amount recorded -- and frigid temperatures have been lacking as well. WLS reports that last month was the 15th warmest December on record in Chicago.
"Overall, the winter season of 2011-2012 is abnormally warm," National Weather Service said, according to the Chicago Tribune. "But will this unseasonable warm weather continue for the rest of the winter? Probably not."

In October, meteorologists predicted that the city would have the nation's worst winter this season, but since then they have toned down those predictions.
"It does not appear that the winter season will replicate last year's cold and snowy winter," NWS said in a December statement. "Instead, odds favor this winter to continue to be on the warm and wetter side of average."
Without blizzards or high winds to report on, the WGN morning news team had fun with their weather segment Tuesday morning: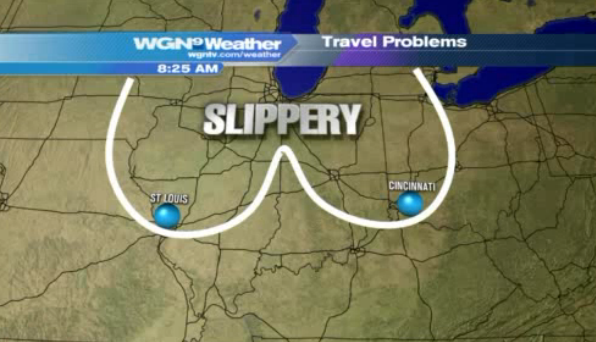 The fun will end, however, on Thursday. As a cold front moves into the area, the temperature will drop into the 20s -- and could bring that snow some Chicagoans have been craving. The city could see two to four of accumulation, and the snow could stick around through Friday morning.
Temperatures will stay in the 20s until Sunday, when a high of 34 is expected.
If the city does not pick up at least half an inch of snow by Jan. 16, WLS reports that "the 2011-12 winter will move into first place for the lowest snowfall total to date."
Missing the snow? Check out our 2011 blizzard slideshow, and maybe you'll feel better about the 50-degree temperatures:
PHOTO GALLERY
Chicago Blizzard 2011