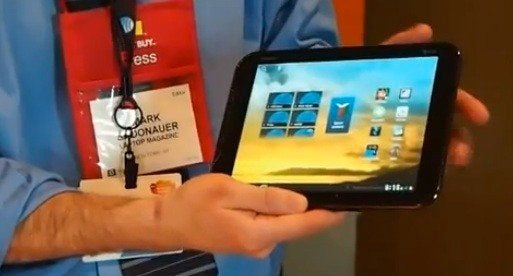 AT&T hosted a press event on Monday as part of the company's CES 2012 kickoff, during which company announced the arrival of the Pantech Element, a waterproof tablet.
Besides the waterproof element, Pantech's first tablet boasts an 8-inch 1,024x768-pixel screen, a 1.5GHz dual-core Snapdragon CPU, microSD memory expansion, HDMI-out and LTE connectivity, which according to Gizmodo means 100Mbps download speeds "if you're inside a tower." The Element also has two webcams (one, a rear-facing 5-megapixel; the other, a front-facing 2-megapixel) and boasts a 12-hour battery life.
While the tablet currently runs on Android 3.2 (Honeycomb), PC Magazine reports that Pantech has promised an upgrade to Ice Cream Sandwich, though the company has not said when the upgrade will happen.
HANDS-ON WITH THE PANTECH ELEMENT:
The Element is one of several waterproof gadgets at this year's CES. Toshiba, among other companies, unveiled its own waterproof tablet concept that can actually charge underwater via magnetic signals from a transceiver, reports The Seattle Times.
HANDS-ON WITH TOSHIBA'S UNDERWATER TABET:

According to MobileBurn, Fujitsu also announced the ARROWS ES IS12F, which in addition to being waterproof, is the world's thinnest smartphone, so Fujitsu claims. However, on Monday, Chinese manufacturing giant Huawei announced the Ascend P1S, which has also been touted as the thinnest smartphone in the known universe.
HANDS-ON WITH THE FUJITSU ARROWS ES IS12F:

BEFORE YOU GO