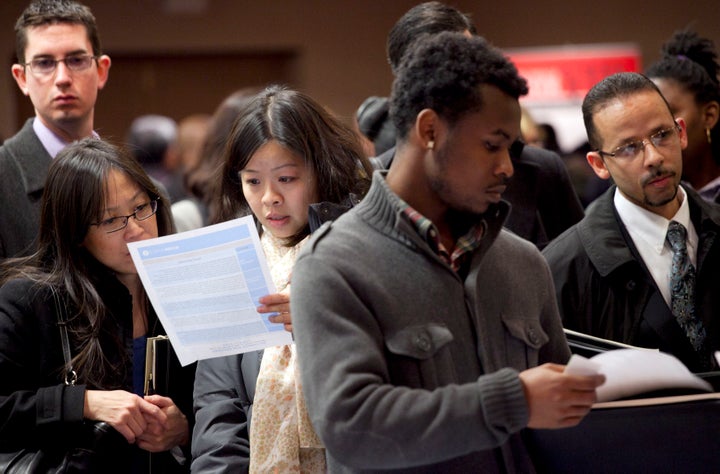 Alec Johnson of Delaware, Ohio, paid close attention last month as members of Congress fought over a bill to reauthorize the federal unemployment insurance he'd relied on for the past year. Eventually, they struck a deal averting an abrupt cutoff for nearly 2 million unemployed Americans, preserving the jobless benefits until March.
So Johnson, 59, was annoyed to learn that even after all that fussing, more politicians need to act to keep his checks coming. "I was surprised," he said. "I sort of thought I had a certain hunk of time."
Ohio is one of several states where the local government needs to take quick action to claim the final 20 weeks of federal unemployment insurance, which for Johnson, a laid-off political organizer, would kick in come February.
The Extended Benefits program is only available in states with high and rising unemployment rates. Depending on the rate's severity, the program provides either 13 or 20 weeks of compensation to layoff victims who exhaust 26 weeks of state benefits and up to 53 weeks from the federal Emergency Unemployment Compensation program. Stagnant state unemployment rates would have caused the program to phase out last year, bringing the maximum duration of jobless benefits down from 99 weeks to 79 weeks, but Congress changed federal law so the program would "trigger on" in states where the jobless rate had risen from the previous three years instead of just the previous two.
Most eligible states changed their laws to conform to the new standard. But some states did so in a way that wouldn't carry over into 2012, meaning an abrupt January end to the Extended Benefits program. The U.S. Labor Department said in December that Florida, Georgia, North Carolina, New Jersey, New Mexico, Ohio, and Pennsylvania will lose Extended Benefits after Jan. 28 unless their local governments act again. (Emergency Unemployment Compensation is not affected.) If local leaders take action, the Extended Benefits program could remain in place for several additional months in each state if Congress reauthorizes federal benefits after February.
New Jersey lawmakers have pledged to act this week. And Florida Gov. Rick Scott (R) issued an executive order on Monday to keep the benefits (though claimants may not know it, since the state's website still reads, "Extended Benefits can only be paid through January 7, 2012").
Mike Dittoe, a spokesman for Ohio House Speaker William Batchelder, said budget directors in both chambers of the Ohio General Assembly favor saving the benefits. "It's been on our radar since beginning of the year," he said. Dittoe cautioned that no course of action has been firmly decided, but said he does not anticipate a problem attaching the benefits to an existing bill when the assembly reconvenes later this month.
Johnson hopes it works out, because his job search hasn't gone well. "I've applied for lots of things, just recently came back with an application to be a Taco Bell manager," said Johnson, who has spent his adult life working for progressive causes. "It just seems like a very poor use of my skills and abilities."
Even though the federal government picks up the tab, the Extended Benefits program can be controversial among state legislators. Halfway through last year, Republicans in North Carolina's General Assembly battled Democratic Gov. Bev Perdue over whether to make the "EB fix" needed to keep the final 20 weeks of benefits. Republicans used the money as leverage in a fight over the state budget, and tens of thousands missed benefits for weeks until Perdue issued an executive order ending the standoff.
Lee Mortimer of Durham, N.C., lost his job in November 2010 and watched the summer standoff anxiously. He was likewise concerned during the congressional fight last month, but was heartened that Democrats held their ground against the demands of House Republicans.
"It was pretty nerve-wracking seeing all that posturing going on. But it was kind of satisfying to see the Democrats finally stand up," Mortimer said. But when he logged on to the website for the North Carolina Commerce Department's Division of Employment Security to file his weekly certification last week, he saw a bad message in red letters.
"As of December 23, Congress and the President authorized a two-month extension of emergency unemployment compensation (EUC) benefits and extended benefits," the message said. "In North Carolina, the last payable week for extended benefits (EB) is expected to be January 28."
"It was very deflating," Mortimer said.
Spokespeople for Perdue and assembly Republicans were unable to provide information Tuesday on their plans.
Mortimer, 65, used to work as an assistant insurance underwriter and has since trained to become a paralegal. He hasn't had much luck finding work, but said he's not ready to retire. If he can keep his unemployment insurance, he said, he can keep looking for full-time work instead of falling back on Social Security to supplement his wife's income. "I would just like to stay in the workforce," he said. "I'm energetic and I don't have any desire to stop."
In Minnesota, a declining unemployment rate means the Extended Benefits program will expire in January regardless of state legislative action. Cynthia Rogers, a laid-off nursing assistant in Minneapolis, said she received noticed she'd be ineligible for Extended Benefits after this week. She's had so little luck finding a job, she said, that she's moving to Texas and launching a new career grooming pets.
"You would think somebody that has the experience I do would be an asset," said Rogers, 55. "I feel thrown away by my profession. I'm going to change it up and do something fun."
UPDATE: N.C. Gov. Bev Perdue (D) signed an executive order Wednesday to preserve Extended Benefits in North Carolina.
"Middle class families across North Carolina are working harder than ever, but many are still having a tough time," Perdue said in a statement. "I signed an executive order today that will extend temporary benefits to approximately 25,000 unemployed North Carolinians. In addition to providing desperately needed financial help to the families that actually receive the benefits, these federal dollars will help all North Carolinians because the money will circulate throughout the economy and help support large and small businesses across the state."