Food Informants is a week-in-the-life series profiling fascinating people in the food world. We hope it will give you a first-hand look at the many different corners of the food industry. Know someone who would make a great Food Informant? Tell us why.
Irene Wong is the Executive Producer of "Unique Eats" and "Unique Sweets," two hit series on the Cooking Channel. Irene's career in food television started in 1999 when she joined the Food Network and created and directed "Everyday Italian" with Giada De Laurentiis, "Ciao America" with Mario Batali, "My Country My Kitchen" and "Melting Pot." In 2006 she started her own production company, IW Productions LLC, which is based in New York City. She was the Co-Executive Producer and Director for several seasons of "Everyday Food," "Everyday Baking," "Mad Hungry" and "Martha Bakes."
"Unique Eats" has Irene on the road, shooting and eating across the United States, approximately nine months a year. The production crew shoots 12 hours a day, 6 days a week. They recently visited Philadelphia, Pa.
Read on to learn what restaurants the crew shoots at, and all the incredible food Irene eats.
Sunday, December 11, 2011: Let's Start with Dessert
After a full shoot day in Philadelphia, the crew and I decided to take a short trip to Atlantic City for dinner and overnight at the Borgota Hotel since we were off the next day.
1:41am: Slice of Coconut Cream Custard Pie at the Metropolitan at the Borgota Hotel in Atlantic City, New Jersey. I decide to garnish the plate with a few bills we won at the blackjack table, turning this into a winning dessert.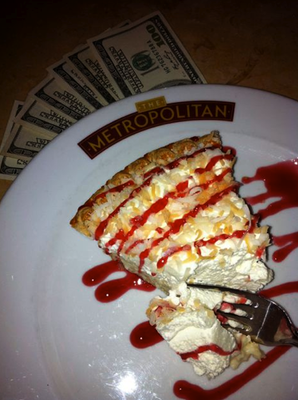 2:30am: Sleep.
11:35am: Half Italian Submarine Sandwich and Half Meatball Submarine with Provolone at the White House Sub Shop in Atlantic City.
12:18pm: Selection of Italian-American cookies from Formica Bros. Bakery, in Atlantic City to snack on for the car ride back to Philadelphia.
2:27pm: Spend the rest of the afternoon at the hotel writing storyboards for this week's shoots.
8:32pm: Quiet Sunday dinner with Associate Producer Jaclyn Fasano at the upstairs bar at Morimoto. House Green Salad with shaved bonito and yuzu vinaigrette. Morimoto Ramen Soup. This intensely flavored yet clean chicken noodle soup would cure any winter cold.
Monday, December 12, 2011: Fried Chicken and Doughnuts - need I say more?
5:35am: Crew arrives at Federal Donuts and unloads 15 cases of television equipment. After a quick technical scout of the 300 square foot eatery, the crew sets up for the interview with Steven Cook, partner of Federal Donuts.
6:50am: Shoot Steven's interview.
7:15am: Federal Donuts opens. The crew works around customers who start to trickle in. An hour and a half is spent on striking the interview and building lights around a small table in the corner of the restaurant where we can do beauty shots of the food.
8:50am: Shoot beauty shots and sample the following: Indian Cinnamon Donut (fried to order and dusted with cinnamon, sugar and warm spices), Appollonia Donut (fried to order and coated with cocoa powder, sugar, cloves and dried orange blossoms), Chocolate Spicy Peanut Fancy Donut, Apple Cinnamon Walnut Fancy Donut, Nutella Tahini Pomegranate Fancy Donut, Buttermilk Ranch Fried Chicken, Za-tar Fried Chicken, Chili Garlic Fried Chicken, Honey Ginger Glaze Fried Chicken.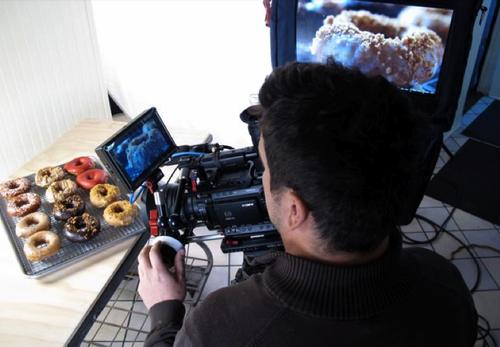 Director of Photography Jonathan Belinski
11:00am: Strike beauty shots set-up and prepare one camera for customer b-roll. Hand-carry the rest of the equipment down the stairs and store in the basement.
1:15pm: Crew brings me back pho soup for lunch from a nearby Vietnamese restaurant.
1:30pm: Federal Donuts sells out and starts to close shop. Crew sets up lights and one camera for the cooking demonstrations.
3:30pm: Shoot Steven demonstrating how to make Indian Cinnamon, Appollonia and Nutella Tahni Pomegrante donuts, and Za-Tar, Buttermilk Ranch, Chili Garlic and Honey Ginger Glaze Fried Chicken. Below: Buttermilk Ranch Chicken.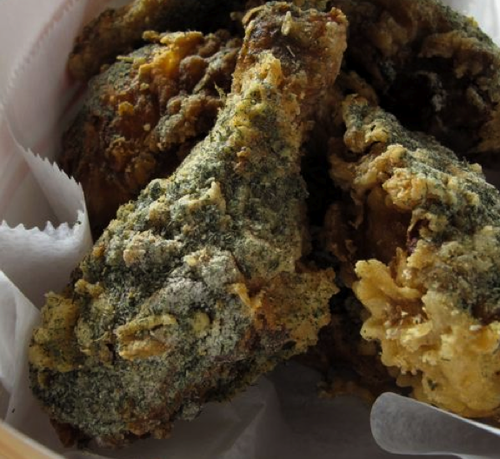 5:30pm: Wrap location and pile into the production vehicles. We smell like deep fryers.
8:45pm: Morimoto for dinner once more, but this time with Director of Photography Jonathan Belinski. House Salad, followed by Wild Striped Bass with black bean sauce, shaved ginger and hot oil with a side of white rice.
Tuesday, December 13, 2011: In my past life, I was Italian
7:30am: Crew arrives at Osteria and uses the private dining room as the staging area for all the equipment. Set up to shoot cooking demonstrations with Chef and Co-Owner Jeff Michaud.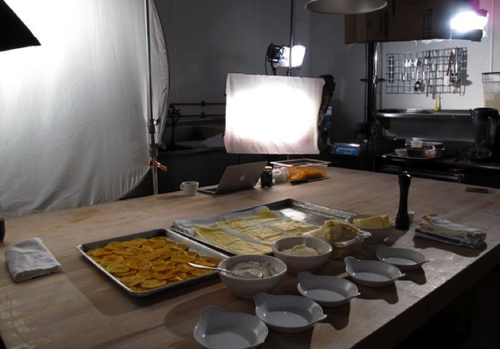 9:00am: Shoot Jeff demonstrating how to make Mozzarella in Carrozza, Squash and Fontina Lasagna with Truffle, Polenta Budino with Gianduia Mousse and Candied Hazelnuts.
11:00am: Strike kitchen and set up to shoot Jeff's interview in the main dining room.
12:30pm: Shoot Jeff's interview.
1:30pm: Jeff prepares lunch for the crew: Le Pizze Napoletane Mortadella (Sicilian pistachio pesto, mozzarella and mortadella), Le Pizza Tradizionale Margarita (tomato, basil, and mozzarella) and Squash and Fontina Lasagna. Below: Mortadella pizza.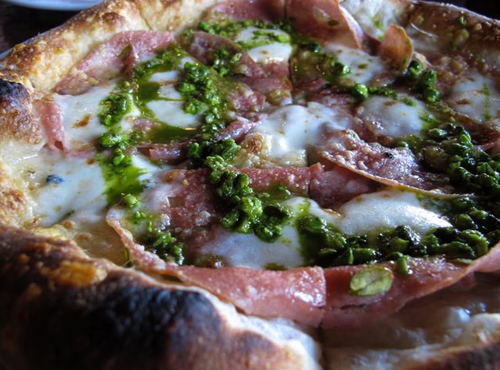 2:00pm: Set up to shoot the food beauties in the private dining room. Shoot beauty shots and sample the following: Squash and Fontina Lasagna, Candele with Wild Boar Bolognese, Polenta Budino with Gianduia Mousse and Candied Hazelnuts, Lombarda Pizza (baked egg, bitto cheese, mozzarella and cotechino sausage), Mozzarella in Carrozza.
5:30pm: Quickly remove all the equipment and relocate our staging area to the pastry kitchen so that servers can set up the private dining room for a dinner and musical performance by Phil Roy.
6:00pm: One camera shoots b-roll of the kitchen during service while the other camera shoots b-roll of customers in the dining room.
7:30pm: Wrap shoot.
8:30pm: The crew and I linger at the bar to savor dinner. I devour an entire order of the Chicken Liver Rigatoni with Cipollini Onions and Sage. But I share a Polenta Budino with Jaclyn.
9:00pm: Slip into the private dining room so that I can watch the musical performance by Phil Roy and Marc Vetri.
Wednesday, December 14, 2011: Day with an Iron Chef
5:45am: Crew arrives at Amada Restaurant and stages equipment in the private dining room. We love restaurants that have space for our massive amount of TV gear and a seven person crew! The L-shaped open kitchen is quite tricky to shoot in so we spend a good two hours setting up lights.
8:00am: Shoot Iron Chef Jose Garces demonstrating how to make Amada's Empanadas, Tortilla Espanola, Gambas Al Ajillo and Albondigas.
10:00am: As the crew sets up for Jose's interview in the bar area, I sample the dishes we just shot. They look so good and yes, they taste even better.
11:00am: Shoot Jose's interview.
12:00pm: Crew brings me back a grilled chicken sandwich with lettuce tomato and mayonnaise from a nearby shop. I take only two bites.
12:30pm: One camera shoots customer b-roll in the front dining room while the other camera sets up to shoot beauty shots in the back dining room and bar area.
1:30pm: Shoot beauty shots of the following: Amada's Empanadas (plantain empanada dough filled with spinach, Manchego cheese and artichoke), Tortilla Espanola (individual potato omelette with saffron aioli), Gambas Al Ajillo (sizzling garlic shrimp in a casuela -- photo below), Albondigas (Lamb Meatballs with English peas in a sherry foie gras sauce and truffles).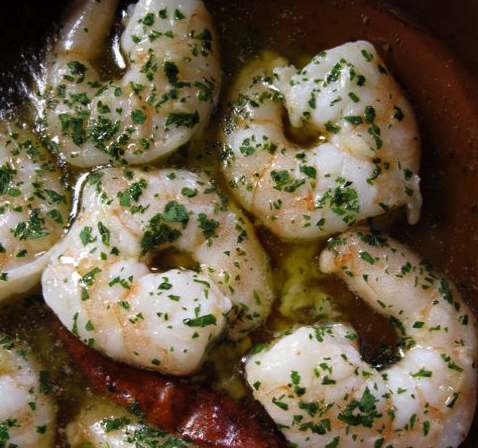 4:00pm: Wrap location.
5:30pm: Jackie and I walk to Reading Terminal to take dinner back to the hotel. I get collard greens, candied yams and a slice of sweet potato pie from Delilah's.
8:30pm: Excited to get to bed early and for the first time in a week sleep more than six hours.

Thursday, December 15, 2011: The Cupcake Craze is far from crumbling
6:30am: Crew arrives at Sweet Elizabeth's Cakes. The set up time for our gear in the kitchen is slightly shorter since there are no stoves or fryers to work around. And since all the cupcakes have already been baked and cooled, there's no "cooking" to be shot.
7:45am: Shoot Elizabeth Paradiso making Red Velvet, Chocolate Bacon and Roasted Banana Cupcakes.
10:00am: Set up and shoot Elizbaeth's interview in the retail area.
11:30am: Crew brings back Green Curry with Chicken from a nearby Thai restaurant for lunch.
12:30pm: One camera shoots b-roll of customers buying cupcakes and the other camera sets up to shoot beauty shots in the kitchen. We move giant cake displays from the front windows to the kitchen to use them in the background.
2:00pm: Shoot and sample the following: Red Velvet Cupcakes (made with pureed red beets), Chocolate Bacon Cupcakes (bacon is in the batter, infused in the frosting and also dipped in chocolate as a topping -- photo below), Roasted Banana Cupcakes (frosting has chocolate hazelnut cream and the cupcake is topped with chopped toasted hazelnuts), Sticky Gingerbread (cross between sticky toffee pudding and gingerbread -- my favorite).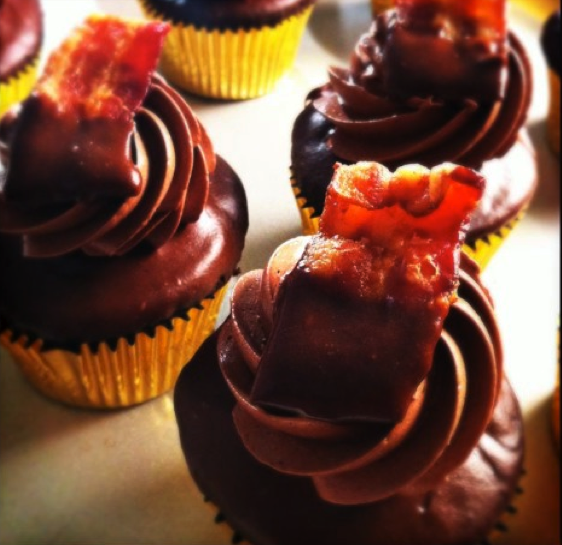 5:30pm: Wrap location.
6:15pm: Jaclyn and I go to a.kitchen to meet up with friend /colleague Beth Lesko who is a culinary producer and food writer. We share the following: Beets and Goat Cheese with Rye Crumbs, Spaghetti Cacio e Pepe, Roasted Cauliflower, Curred Lobster Broth, Lobster Muffins, Shrimp on the Griddle with Chilis, Octopus with Quince Chutney and Chick Pea Fries, Spiced Venison with Brussels Sprouts, Blue Cheese and Apples, Barbecue-Glazed Goose with Pickled Vegetables.
Friday, December 16, 2011: Who Doesn't Love a Great Sandwich
5:30am: Crew arrives at Paesano's, located in the Italian Market. This is one of the most talked-about sandwich shops in Philadelphia. It's another small location where we temporarily stage our equipment in the small sit-down area in the morning, but then quickly relocate everything when the place opens for lunch service.
7:30am: Shoot Chef and Owner Peter McAndrews demonstrating how to make the Gustaio, Paesanos and Bolognese sandwiches.
9:30am: As the crew sets up the equipment to shoot Peter's interview, I cut a small sliver of the Gustaio sandwich. Watching Peter roll up housemade lamb sausage, sun-dried cherry mustarda, a gorgonzola spread, roasted fennel and arugula in lavash bread and crisping the entire thing on a griddle made my stomach growl all morning. It is so good, I cut another piece of the sandwich. A bigger one.
10:45am: Shoot Peter's interview.
11:30am: Hand carry all the equipment upstairs to the 2nd floor which looks like a construction site. One camera shoots broll of customers in the restaurant while the other camera is being set up to shoot food beauties.
12:00pm: I order the Liveracce Sandwich for lunch: Crispy Chicken Livers with salami, sautéed onions, iceberg lettuce, roasted tomatoes garlic mayo, sweet orange marmalade, gorgonzola spread and hot sauce. It has everything but the kitchen sink.
12:30pm: Because the eatery is small and packed during lunch, we have to make the construction site work for our food beauties. We find random wood planks and line them up along the wall by the window to add texture to the background. A large wood cutting board from the kitchen becomes the tabletop for the sandwiches.
1:30pm: Shoot food beauties and sample the following: Arista Sandwich (whole roasted suckling pig, Italian long hots, broccoli rabe and sharp provolone), Gustaio (that lamb sandwich of my dreams, photo below), Bolognese (crispy fried lasagna with classic meat sauce, sweet peppers, smoked mozzarella, red sauce, sharp provolone cheese and a fried egg) and the Paesano Sandwich (beef brisket, horseradish mayonnaise, roasted tomatoes, pepperoncino, sharp provolone cheese and a fried egg).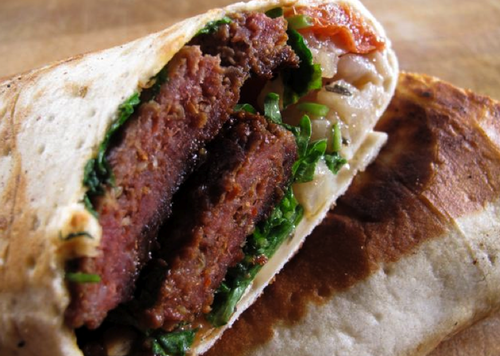 4:30pm: As the crew wrap the location, Jaclyn and I walk over to Isgro, a famous Italian bakery that's been around since 1904. We buy a couple of boxes of cookies.
7:30pm: The crew and I go to Village Whiskey for its infamous burgers. I order the Whiskey King -- an 8oz burger with maple bourbon glazed cipollini, Rogue Bleu Cheese, Applewood Bacon and Foie Gras. There is also a side of Duck Fat French Fries with Sly Fox Cheddar Sauce. I polish my plate. The burger is that good.
Saturday, December 17, 2011: Start with Veggies, End with Dessert
8:30am: Crew arrives at Vedge, a vegetarian restaurant that is the final shoot location in Philadelphia. The kitchen is very small. There is a second kitchen where all the cold dishes and pastries are prepped, but there the staff is in the midst of prep work. We decide to shoot the cooking demonstrations by the front bar.
10:30am: Shoot Pastry Chef/Co-Owner Kate Jacoby demonstrating how to make Sticky Toffee Pudding.
11:30am: Shoot Chef/Co-Owner Rich Landau demonstrating how to make Golden Beet, Smoked Tofu, Avocado, Capers and Cream Cucumber (aka vegetarian tartare).
12:30pm: We decide to shoot the two-person interview in the lounge area. Furniture is relocated to the bar area in order to make room for the TV equipment.
1:30pm: Shoot Rich and Kate's interview.
2:00pm: Crew orders meatballs for lunch from a nearby eatery.
3:00pm: One camera sets up to shoot b-roll of the kitchen prepping dinner service while the other camera sets up to shoot beauty shots in the lounge.
4:00pm: Shoot beauties and sample the following dishes: Gold Beets, Smoked Tofu, Avocado, Capers and Cream Cucumber
Sticky Toffee Pudding; Royal Trumpet Mushrooms with Grilled Leeks and Truffle Sauce; and Braciole with Smoked Eggplant and Cauliflower with fresh garbanzo, olives and salsa verde (photo below).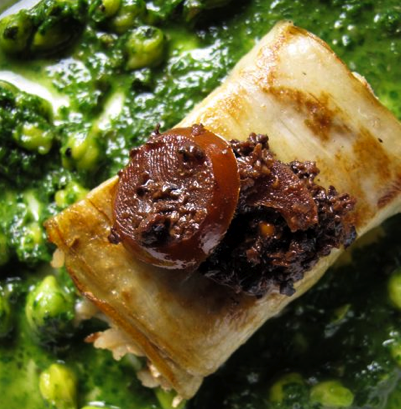 6:45pm: Wrap location.
10:00pm: Wrap dinner with the crew at Amis Restaurant. Six of us shared the following: Mortadella Mousse, Eggplant Caponata, Imported Bufala Ricotta and Black Pepper, Chicken Liver Toscani, Salami del giorno with marmalade, Mortadella with hazelnut honey, Baked pecorino with almond honey, Seafood fritto misto, Arancini di riso with meat ragu, Beef Cheek Crochette with Pecorino, Almond-Dusted Sweetbreads with Fennel Marmalade, Grilled Veal Tongue with Pepper Mostarda, Rotini with Wild Boar Ragu and Pears, Pappardelle with Oyster Mushroom Ragu, Veal Milanese with Arugula and Parmesan, Roasted Skate with Lemon Puree and Fried Brussels Sprouts. Chef Brad Spence thought we were still hungry, so he several desserts including: Mom Mom's Rice Pudding, Belgian-Style Waffles with Nutella, Vanilla Semifreddo and Toasted Hazelnuts, Chef's Selection of Assorted Holiday Cookies, Tiramisu.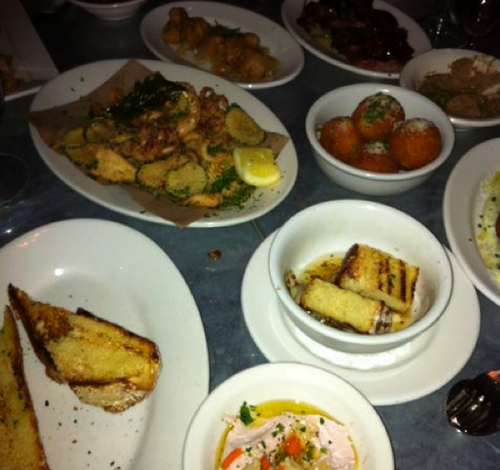 Tune in to "Unique Eats" on Sunday, April 1, 2012 at 10:00pm EST on the Cooking Channel to see the fruits of Irene's labor!
See previous Food Informants below:
PHOTO GALLERY
Food Informants(CLONED)(CLONED)