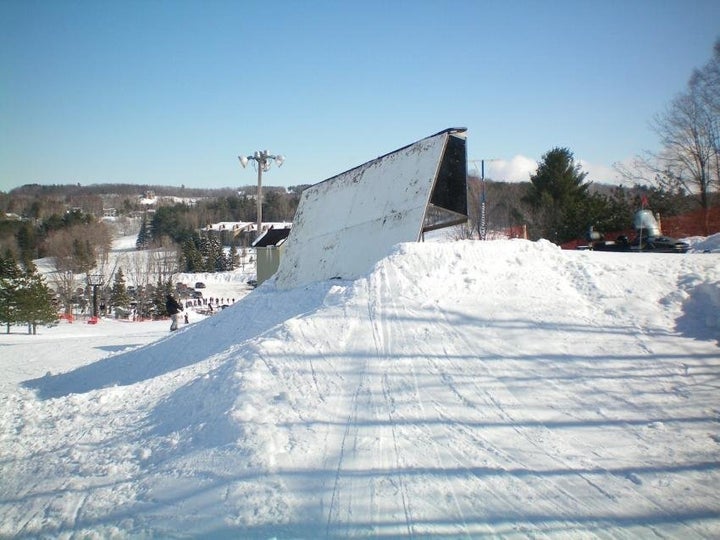 is located in Barrie, Ontario's Copeland Forest, about an hour north of Toronto, right off Highway 400. The resort is just a quick drive away and offers a variety of trails, making it a popular ski destination for many of Toronto's citizens, especially families. Boasting more than 35 kilometers of groomed Nordic trails, Horseshoe Resort is also a popular destination for cross-country skiers.
in the middle of Ontario's snow belt, Horseshoe Resort receives approximately 120 inches of fresh snow a year. When Mother Nature fails to brew up enough powder, the resort can supplement her offerings with snow of its own creation. The mountain's highest point is 1,332 feet and it has a 304-foot vertical drop. Horseshoe Resort has a relatively long
that typically starts in mid-December and runs through April. Snow conditions can vary right after a good storm, from powdery to over-skied and icy.
Skiers and snowboarders will find
, a terrain park and a half-pipe at Horseshoe Resort. Of these
, 31 percent are beginner level, 17 percent are intermediate and 52 percent are considered advanced level. Transporting these snow lovers are a number of
that include two double chairs, a quad detachable, a triple chair, a high-rider triple, a handle tow, carpet lift, as well as a pipe rider to the half-pipe. Alpine night skiing is available until 10 p.m. Horseshoe Resort also offers guests something a little different:
, with illumination provided by lantern and moonlight.
The resort has played host to the
, the largest open ski and snowboard festival in Ontario. The event has attracted some of Canada's best snowboarders and skiers. In addition, Horseshoe Resort offers
and
and hosts its own
.
The cost of a daytime
on the weekend is $53 for adults ages 17 to 59 and $49 for juniors, ages 6 to 16 and seniors older than 60. Unlimited ski tickets, which include night skiing, are $56 for adults and $49 for juniors and seniors on the weekends. On a nonholiday, midweek day an unlimited lift ticket drops to $37 for everyone. A beginner ski or snowboard
that includes a four-hour lift ticket, rentals and a group lesson is $69. A ski or snowboard rental package starts at $35 per day. Horseshoe Resort also rents helmets for $10. For diehard skiers and snowboarders, a season pass gets the best bang for the buck. These passes are $599 for adults ages 17 to 59 and $449 for juniors ages 6 to 16 and seniors older than 60.
Horseshoe Resort is as enjoyable for nonskiers and tired snow sports lovers as it is for diehard slope slaves. The resort's Inn at Horseshoe features an indoor pool, hot tubs and dining options for special occasions and casual meals. The upscale
features entrees such as an Angus New York steak or rack of lamb dinner, while much more
can be found at either the family-friendly Crazy Horse Restaurant or the Cookhouse Cafeteria, which has a view of the slopes. Aching bodies can find a little extra TLC and pampering in the form of massages and wraps at the Horseshoe Resort's
.