WASHINGTON -- Mitt Romney's solid victory in New Hampshire, judging from the network exit poll, can be credited to two factors that made the state especially hospitable to his candidacy: New Hampshire's Republican primary attracted fewer of the conservative and evangelical Christian voters that flocked to Rick Santorum in Iowa, and Romney benefited from greater general popularity owing in part to his service as governor of neighboring Massachusetts.
The upcoming South Carolina primary looks far less welcoming to Romney. Yet with that state's more conservative vote likely to split among several more conservative opponents, he may still win an unprecedented sweep of the first three contests of 2012.
The New Hampshire exit poll was conducted by Edison Research for the consortium of news organizations known as the National Election Pool. Detailed cross-tabulations were published by NEP members and subscribers, including CNN, NBC News, CBS News, Fox News and the Washington Post.
The exit poll confirmed two major factors that distinguish New Hampshire from Iowa and the other early primary states: Its Republican primary voters, whether they voted for him or not, were more favorably disposed to Romney, and its rules and traditions led to participation by many more independent and moderate voters.
Start with the independents. New Hampshire allows undeclared voters -- those not registered as members of either party -- to vote in the primary, so independent participation has always been high. This year, however, independent identifiers constituted nearly half (47 percent) of the Republican primary electorate, up from 37 percent four years ago.
That surge of independents helps explain the strong showings for Ron Paul and Jon Huntsman, who together received the votes of more than half of the independents (31 and 22 percent, respectively). The pattern was similar in Iowa, where Ron Paul alone received 43 percent of the independent vote, although independents were just a quarter (23 percent) of the Iowa caucus electorate.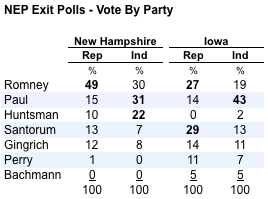 But the results among New Hampshire's Republicans may be a more important indicator of potential going forward. Romney won nearly half of their vote (49 percent), with Paul and Huntsman running far behind (15 and 10 percent, respectively). In Iowa, over half the vote among Republican identifiers went to either Romney (27 percent) or Rick Santorum (29 percent), with none of the other candidates winning more than 14 percent.
The independent vote will likely be less of a factor in the next two contests. In 2008, self-identified Republicans were 80 percent of the Republican primary electorates in both South Carolina and Florida. So at very least, those states appear less hospitable to the Paul and Huntsman candidacies.
Next, consider the favorite-son factor. New Hampshire voters were familiar with Romney from his four years as governor of Massachusetts and his earlier U.S. Senate run in that state, given that roughly four out of five of them live in the Boston media market and watch television on Boston stations. That exposure helped make Romney more popular. Pre-election polling by NBC and Marist College, for example, found that more of the likely primary voters in New Hampshire found Romney to be an "acceptable" candidate (60 percent) than did the likely caucus-goers in Iowa (50 percent).
The network exit poll found more evidence of Romney's popularity in New Hampshire. While he won 39 percent of the actual vote, an even larger number of primary voters (61 percent) said they would be satisfied if Romney won the nomination, far more than said the same about Paul (42 percent), Santorum (38 percent) or Gingrich (35 percent).
That popularity helped Romney carry nearly every demographic subgroup in New Hampshire. Paul ran first among voters under age 40 and those with annual incomes under $30,000, but Romney ran ahead with all other groups.
As CBS News exit poll analyst Samuel Best noted,"Romney expanded his support [in New Hampshire] well beyond the groups he won in Iowa." In New Hampshire, he was the first choice of Tea Party supporters (winning 41 percent of their vote), strong conservatives (29 percent) and self-described evangelical or born-again Christians (31 percent). Santorum carried all of those groups in Iowa, where their support for Romney did not rise above the mid-teens.
"The big question heading into South Carolina and Florida," Washington Post pollster Jon Cohen wrote, "is whether Romney will perform as well among these key Republican groups as he did in New Hampshire." Strong conservatives and evangelicals were 34 and 60 percent, respectively, of the South Carolina Republican primary electorate in 2008, compared to 24 and 21 percent, respectively, of the New Hampshire primary electorate on Tuesday.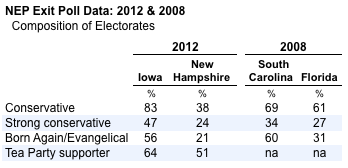 Without the boost of favorite-son status for Romney, exit polls past and present suggest that South Carolina has the potential to be far more favorable to candidates like Santorum, Newt Gingrich or even Rick Perry. But there's the rub. Any one of those candidates might have the potential to consolidate support among the most conservative and evangelical voters, but with all three running, those votes are likely to split.
Such a split occurred in South Carolina in 2008, when self-described conservatives divided their votes among Mike Huckabee (35 percent), John McCain (26 percent), Fred Thompson (19 percent) and Romney (16 percent). But since McCain won 50 percent of the votes cast by non-conservatives, he was able to carry South Carolina by three points (33 to 30 percent) over Huckabee.
If the conservative base divides again on Jan. 21, Romney may prevail even if he cannot replicate the support he won from the most conservative subgroups in New Hampshire. So the continuing campaigns of Gingrich, Santorum and Perry are one big reason why Romney may be able to hold his lead and win the South Carolina primary.

BEFORE YOU GO