"Shop Talk" is a recurring feature in which we visit some of our favorite stores across the country and highlight their stylish employees. Today, meet Sari Rifkin of Norma Kamali's New York flagship, which opened in midtown Manhattan in 1978. The designer is known for her iconic sleeping bag coats. If you're not familiar with the storied piece of outerwear, click here to see a video Kamali made to celebrate its tenth anniversary in 1983, in which fans confess their favorite uses for the quilted cover-up (you know, like hiding $7,000 of stolen eyeliner). "The stories never fail to make me laugh as they continue today, since the life of the sleeping bag coat will go into its 40th year in 2013," says Kamali.
Scroll down to get some shopping tips from Style Specialist Sari.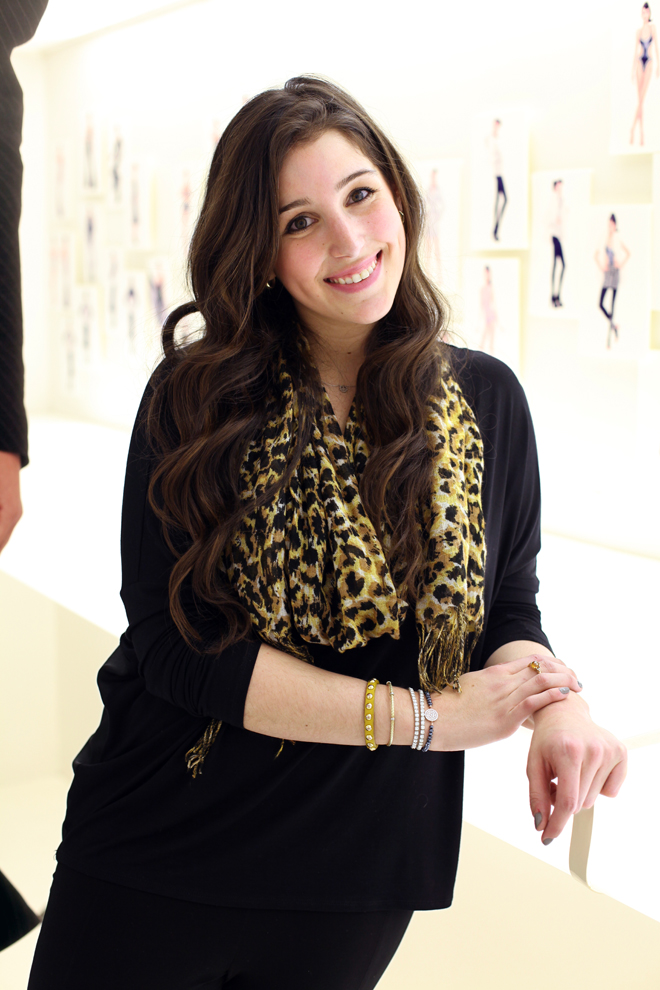 Photo: Bobby Doherty
Who: Style Specialist/PR Manager Sari Rifkin
What's the best advice Norma has given you?
She's taught me that if you ever make a mistake and you fall on your face, you just pick up where you left off and keep on going, and you learn from it.
This store's been around since the '70s. Who are your oldest customers?
We have customers in their seventies and eighties who come in here in their original sleeping bag coats. There was one collection that was neon yellow, and these women come in in their originals that they've kept in impeccable condition and brag about it--that this is the original coat that they got in the '80s and it still looks amazing. They still wear it year after year, and people stop them on the streets.
Kamali has always had high-profile clientele. What kind of celebrities have you worked with recently?
Lady Gaga wore her mother's vintage Norma Kamali wedding gown from the '80s in her last music video ["You & I"]. And the next day, she was in a commercial wearing Norma Kamali from our spring/summer collection. Beyonce is a huge fan, as is Rihanna.
How would you describe your personal style?
My style revolves around classics and pieces that I can add accessories to -- something that's a blank canvas that's not going to go out of season.
What are you wearing today?
Norma Kamali fishtail pants, Norma Kamali for Walmart accessories, a C&C California top and Opening Ceremony shoes.
What items are you most excited about for spring?
I'm super-excited about colored fringe. Norma always says every woman should have a piece of fringe in your wardrobe, because it's fun and it makes you feel good when you're in it. We always have black fringe and we just added a natural, but for spring, there's awesome colors: fuchsia, orange, turquoise, navy and white.
Norma Kamali is known for having a "try before you buy" policy that allows customers to have items shipped home, and then consult with a sales associate via Skype. What's been your funniest Skype experience?
There's a customer who lives in Bermuda who likes to turn her computer around and show me her view. I'm like, "Can I send myself in your 'try before you buy' package?"
The store now uses 8-foot-tall cutouts to display the clothes. Do these "glamazons" ever get knocked down?
As infrequently as possible.
What's the strangest reaction that they've elicited from a customer?
We've been asked if they're the actual size of the models more than once. Yeah, model-casting at the circus!
FASHION RELATED LINKS YOU MAY LOVE:

30 Denim Finds Under $50 - iVillage

The 'It' Girl You Don't Know - The Daily Beast

5 Pretty Spring 2012 Hues To Add To Your Wardrobe - FabSugar

Bright Spots In A Season Of Timeless Minimalism - Elle

25 Teeny Tiny Ways To Be A Lot More Fabulous - The Frisky