Sit back, stretch those limbs out, and enjoy what today's furniture has to offer: more space! Oversize furniture, according to The New York Times is making a, well, big impact in the world of design. And this claim is evidenced by the hard-to-miss expansive dinner tables and giant armchairs offered by mass-market retailers like West Elm and Anthropologie.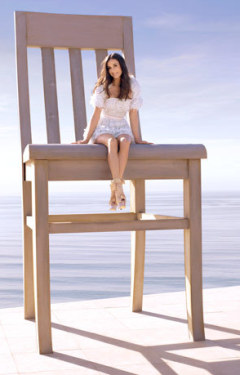 Demi Moore in an extra-oversized chair. Photo by Mark Seliger, courtesy of Harper's Bazaar
In fact, The Times compares a behemoth of a chair to a loveseat designed in the late 1920s, and found the Goliath-size chair to be the same width as the vintage two-seater. But why the excess? And what are the physical and psychological conditions to consider? Well, one thing is that we, as a species, have grown in size. A 2011 Gallup poll found that the self-reported average American weight has increased 20 percent since 1990. Along the same lines, many new suburban homes now feature large, commodious common rooms that need filling, pointing to a larger overall symbolic idea -- how success is measured by grand dwellings and comforts. Surprisingly, many designers and anti-clutter advocates have countered that large furniture bogs down a room, is disproportionate to most room scales, and rather unnecessary if space is limited.
What are your thoughts? Is Herculean furniture made for you or would you feel dwarfed and as if you're drowning in the excessiveness? Let us know in comments.
Either way, more and more oversize furniture pieces are appearing in the marketplace. Don't believe it? Check out our slideshow below.