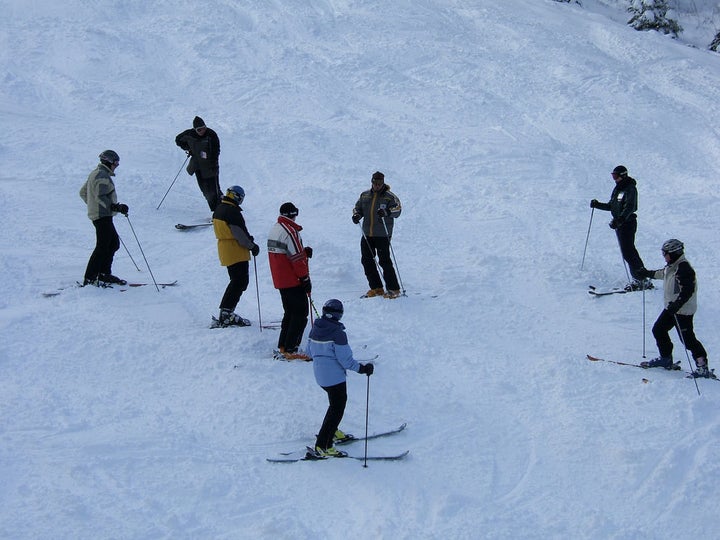 Elk Mountain Ski Resort in Pennsylvania is a popular destination for skiers and snowboarders. As part of a series on ski resorts, Huffington Post Travel offers our guide to Elk Mountain Ski Resort, featuring all the key information snow lovers need to know before they hit the slopes.
The Basics
is in Union Dale, Pennsylvania, in the northeastern part of the state. The resort is about three hours from Philadelphia and New York City and an hour from the
. Reviewers at
give Elk Mountain high marks for its beautiful views, uncrowded slopes -- except on Saturdays -- and for offering a variety of challenging runs, given the resort's relatively small size. Reviewers also note that the lifts at Elk Mountain are slow and nightlife is minimal.
The Mountain
Elk Mountain is nestled in the Endless Mountains, part of the Appalachian Mountains chain. The mountain's summit is 2,693 feet, the highest in eastern Pennsylvania, and the vertical drop is 1,000 feet. The season begins in mid- to late December and ends in early to mid-March. Annual snowfall averages 60 inches, and snowmaking occurs on 95 to 100 percent of the trails. According to SkiResortGuide.com,
Trails And Lifts
Elk Mountain features
; 25 percent of which are beginner runs, 30 percent intermediate runs and 45 percent advanced runs. However, expert skiers have to look elsewhere since there are no expert runs at Elk Mountain. The longest run is seven-tenths of a mile. There are seven lifts: five double lifts, one quad, one surface lift and a cable tow for the main terrain park. The resort has two terrain parks, the Stompin' Grounds Terrain Park and the Little Foot Progression Park, where skiers and snowboarders can hone their skills. There are no half-pipes or tubes at the resort. Elk Mountain offers night skiing until 10 p.m.
In The News
Public television station WVIA offers members an annual
at Elk Mountain. A number of memorial races are held each season and, in March 2012, Elk Mountain Ski Resort hosts a
. The resort also hosts a January Winterfest celebration that features discounted lift tickets available at area ski shops. Elk Mountain was ranked as one of SkiMag.com's
in an article praising "what might be the best-groomed cruisers in the state."
Cost
The costs for
vary by time of day, day of week and age of the skier. An adult weekday ticket is $50, whereas weekend tickets are $60. For children ages 6 to 12 and seniors, it's $39 on weekdays and $44 on weekends. Nighttime tickets for adults are $28 on weekdays and $30 on weekends; for children and seniors, it's $25 on any day of the week. There are discounts for two-day tickets. Children 5 and younger receive a free lift ticket when accompanied by an adult. Equipment rentals range from $21 to $35 for skis and $27 to $38 for snowboards; snow boots rent for $15. Elk Mountain's "Big & Friendly book" offers discounts on lift tickets, equipment and lessons.
Apres-Ski
Elk Mountain offers a list of
. Not much is in the immediate vicinity, which is quite rural. For a change of pace visitors can gamble at the
, about an hour away in Wilkes-Barre. Local dining and lodging options include the
and the
. For casual meals, music and lodging,
is only two miles from Elk Mountain.
WATCH: Elk Mountain Ski Resort
Skiers enjoy endless fun at Pennsylvania's Elk Mountain Ski Resort.