Model and actress Olivia Munn is the latest celebrity to strip down for PETA's "I'd Rather Go Naked Than Wear Fur" campaign.
**Scroll down for EXPLICIT photos**
Shot by top celebrity photographer Emily Shur, the billboard image shows the correspondent for "The Daily Show" posing topless opposite a bunny as the tagline asks, "Who Needs Fur To Feel Beautiful?"
Unfortunately, the fully nude image was deemed too risque, so only a partial topless photo of Munn will appear on the PETA billboard on Beverly Boulevard in Los Angeles, according to the Hollywood Reporter.
"When you think about even that little tiny trim of fur on your gloves or on your collar, that is still coming from an animal that had to endure so much pain just for you," the 31-year-old actress said in a press release announcing the campaign. "There's nothing good about pretending like you don't know."
The ad aims to draw attention to PETA's ongoing campaign campaign against fur which, the group explains on their website, leads to inhumane treatment and suffering of animals.
When people learn that millions of innocent animals are beaten, boiled, hanged, and electrocuted for their fur every year; that each fur coat, each piece of fur lining or fur trim, and each fur cat toy represents the intense suffering of dozens of animals; and that furriers intentionally mislabel the fur of cats and dogs as fur from other species or as faux fur -- then every decent human being will want to go fur-free.
Similarly, the Humane Society says the fur industry is notorious for extreme mistreatment of animals.
"On fur factory farms around the world, millions of raccoon dogs, rabbits, foxes, mink, chinchillas, and other animals spend their lives in wire cages, only to be killed by anal electrocution, by neck-breaking, or in gas chambers," the group says on their website.
Munn, who stars in Steven Soderbergh's upcoming comedy "Magic Mike" and Aaron Sorkin's HBO drama series "Newsroom," previously posed nude for PETA in 2010, advocating that people boycott the circus over animal cruelty.
Other celebrities who have posed for PETA's eyebrow-raising "I'd Rather Go Naked" ad campaign include Khloe Kardashian, Eva Mendes and Elisabetta Canalis.
Check out the PETA billboard photos of the actress below.
LOOK:
LOOK: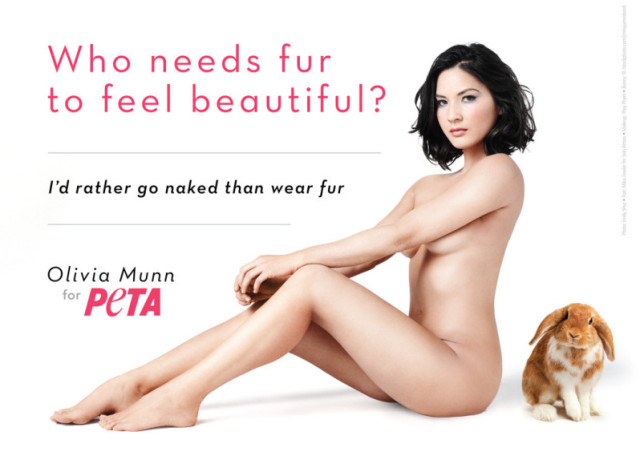 LOOK: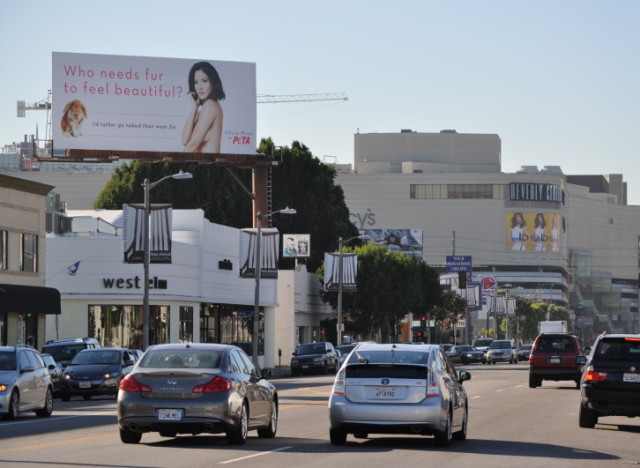 WATCH:
See some of PETA's most memorable anti-fur ads below (WARNING: Some images may be considered EXPLICIT and NSFW):
BEFORE YOU GO
PHOTO GALLERY
PETA Anti-Fur Ads