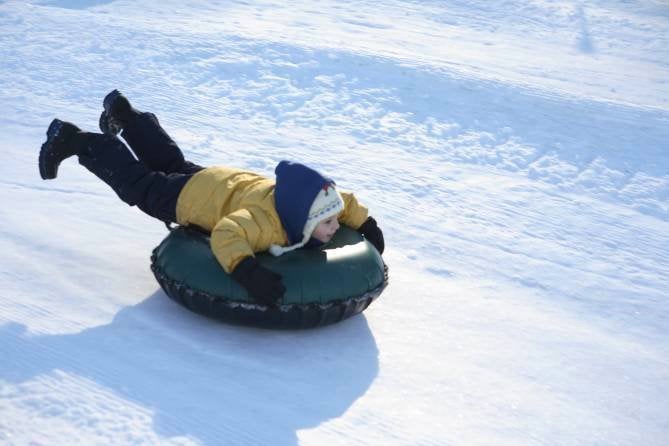 Cascade Mountain in Wisconsin is a popular destination for skiers and snowboarders. As part of a series on ski resorts, Huffington Post Travel offers our guide to Cascade Mountain, featuring all the key information snow lovers need to know before they hit the slopes.
The Basics
is a family-friendly ski area in Portage, Wisconsin. The town has a municipal airport and Amtrak service, while the larger General Mitchell International Airport in Milwaukee is about 1 1/2 hours away. Madison and its Dane County Regional Airport are about a 30-minute drive away, and Chicago is about 2 1/2 hours away by car. The Snow Shuttle Xpress makes several stops in Portage and runs back and forth to Cascade Mountain. The slopes are open from 10 a.m. to 9 p.m. Monday through Thursday, 9 a.m. to 10 p.m. Friday and Saturday and 9 a.m. to 9 p.m. on Sundays.
The Mountain
With 160 skiable acres,
has a base elevation of 820 feet and a peak elevation of 1,280 feet. The Portage area gets 50 to 56 inches of natural snowfall a year, and Cascade supplements that with 100 percent snowmaking coverage of all trails. The snowmaking process covers the mountain from top to bottom, and a grooming machine makes skiable areas. Skiing, snowboarding and snow tubing are all available.
Trails And Lifts
Cascade Mountain boasts
, about evenly split between beginner, intermediate and advanced runs. At more than 5,300 feet long and cruising through old-growth forest and scenic terrain, the longest trail,
, lives up to its name. Ten lifts serve the mountain, including a high-speed detachable quad chair and two magic carpet surface lifts. The Snow Tube Park features seven tube lanes, meaning seven people can tube at once in separate lanes. Four terrain parks -- including Boarderland Park with tree-lined twists and turns and natural terrain -- beckon everyone from beginners to advanced skiers and boarders.
In The News
The 2011-2012 season marked Cascade Mountain's 50th anniversary. The mountain completed $2 million in improvements, adding snow guns, a new grooming machine and a robotic Montana Challenge stone grinder and waxing machine for ski and board tuning. Cascade also expanded its lower chalet and remodeled its coffee shop.
comparison racing is available on weekends and over the Christmas and New Year's holidays, and a
is offered to boys and girls ages 6 to 18.
Cost
Known for its slogan -- "Where Kids Ski Free!" -- Cascade Mountain offers free
to visitors 12 and younger who are accompanied by a paid adult. An adult flex ticket, valid for eight consecutive hours from when it's purchased, is $45. An all-day ticket is $49, and a closing ticket for the last five hours of the night is $25. You can add tubing for $10.
range from $235 to $515 for adults. Rentals range from $22 to $44, depending on type of equipment and time of day, and helmets are $8.
Apres-Ski
The Peak Cafe at Cascade Mountain offers
food and beverages, and the Peak Bar features cocktails and flat-screen TVs. Grab something quick at the snack bar in the lower level of the lodge, or visit the Daisy cafe and bar at the top of the hill on weekends and holidays. The remodeled Coffee House offers Starbucks coffee, and there's an outdoor grill and patio. Nearby Wisconsin Dells, about 15 minutes away by car, offers lodging, water parks and resorts.
WATCH: Cascade Mountain
Here is a view of three ski runs at Cascade Mountain in Portage, Wisconsin.