Got a success story of your own? Send it to us at success.stories@huffingtonpost.com and you could be featured on the site!
Name: Justin Smith
Age: 30
Height: 6'0"
Before Weight: 279 pounds
How I Gained It: It's difficult to pinpoint an exact time and date that I started gaining weight. For me, the struggle with poor eating habits and lack of exercise started in my childhood. I was much more content to spend time in front of the television than to go outside or play sports. Of course, I enjoyed riding my bike and swimming throughout the summer, but as I got older and realized that I was overweight, those activities began to lessen in frequency and I felt relegated to a life of obesity. "I'll never lose the weight," I thought. "So why try?"
I often made New Year's resolutions to lose weight. Those usually lasted about three weeks. I would make some progress and then get burned out, so I would throw in the towel.
Breaking Point: Something changed in late 2009. An appointment with my doctor ended with him informing me that, at 28 years old, I was nearing the point that blood pressure medication was an imminent necessity. In addition, my cholesterol was high and I was also facing the likelihood of diabetes. This was a wake-up call for me. I didn't want this kind of life, and I didn't have to have it. I still had time to turn it around. I also became an uncle to a beautiful niece in 2009 and knew that I wanted to be around to watch her grow up. The lifestyle choices that I was making at that point would not allow me to do that.
How I Lost It: In January of 2010 at nearly 300 pounds, I made yet another resolution to lose weight and get fit. I'd tried enough fad diets and pills to know that they're not successful in the long-term. I had to make a decision to make a lifestyle change. So the first thing I did was change my nutrition and food choices. I stopped living on my previous drive-thru diet of double cheeseburgers and large fries and replaced those meals with lean meats and vegetables.
For the first time in my life, I also joined the gym. I was incredibly anxious about going to the fitness center to workout. "What will people think of me?" I wondered. I was very self-conscious and felt out of place. I eventually realized that this was a lot of my own insecurity. (I've since come to understand that, no matter your weight, people at the gym are usually helpful and may even respect your decision to live in a healthy manner). I supplemented the gym time with a popular home workout DVD program and began to see results. In a little over a month, I'd lost 25 pounds. Just five months later, I was down 60 pounds. In December, I officially celebrated a 100-pound weight loss. A year later I've maintained that weight loss with continued exercise and healthy eating.
As I continued to lose weight and look better, I noticed I felt better as well. I had more energy and slept more soundly. I was less anxious, more focused and a better friend and employee. Fitness and exercise became second nature, and I found myself enjoying the feeling that came with a great workout. I started to realize there's no end date to fitness so I began to ask myself, "What's next?" One answer came to mind: Run a 5K.
I never thought I could run. In gym class, I was lumped into the "slow kids" group., and I got winded walking up a flight of stairs, so tackling a 5K was going to be a huge feat. In October of 2010, I started the Couch to 5K program. It was so difficult at first, just running to the end of the street, that I wondered if I'd ever meet this goal. But consistency and hard work paid off and on December 4, 2010, I ran my first 5K -- in the snow and sleet! -- with a time of 34:10.
But I wasn't finished yet. As soon as I got home from that first race, I looked up another race. I guess it was a result of the "runner's high" you hear about, but the pride and sense of accomplishment had me hooked. I signed up for another 5K a couple of months later as well as a 10K. In April 2011, I ran my first half-marathon in Louisville, Kentucky. And in September 2011, at the Wright-Patterson Air Force Base in Dayton, Ohio, I defied all of my own expectations by crossing the finish line of the Air Force Marathon.
It's strange to think that less than two years ago I was headed down a much different path. I've replaced a self-destructive lifestyle with a passion for fitness, and running. I'm constantly seeking new adventures and opportunities to push myself in new directions (and blogging about them at mr-smit.com). The next year will involve another marathon and several other races. I hope to begin training for a triathlon this year as well and have aspirations of competing in an Ironman in the future.
If there's one thing I've realized throughout this process, it's that health and fitness is an exciting journey and an opportunity that shouldn't be squandered. It is possible to make a change. It may be difficult and sometimes it's downright frustrating, but life is worth living. And I intend to live it well.
After Weight: 178 pounds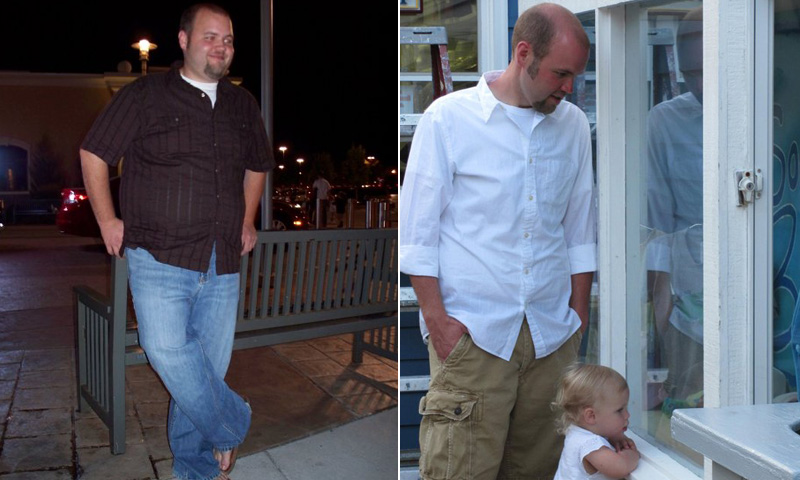 Check out more of our inspiring weight loss stories below:
PHOTO GALLERY
Weight Loss Success Stories
For more on weight loss, click here.