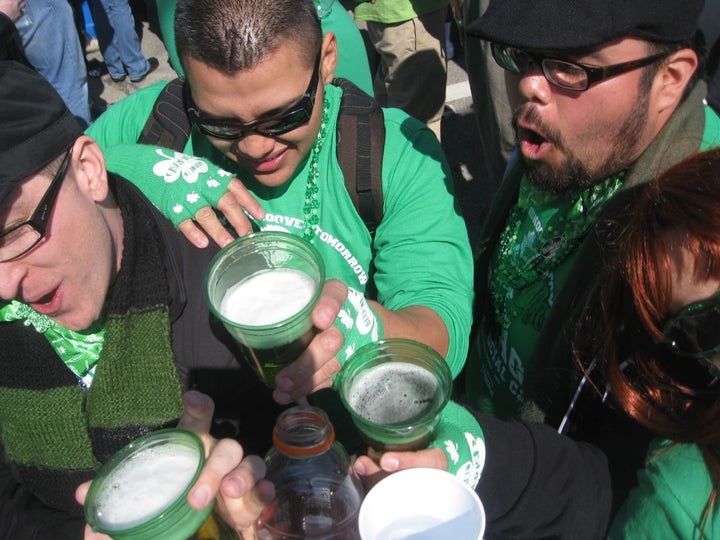 For years, the South Side Irish St. Patrick's Day Parade brought hundreds of thousands of people to the streets of Beverly to watch a parade, and often times, get very intoxicated. Despite its popularity, the city canceled the event in 2009 after residents of the Southwest Side neighborhood complained about the hordes of drunk and unruly youths -- and police complained about a spike in assaults against officers.
"We see the parade as being vital to the fabric of the Beverly/Morgan Park neighborhood," committee chairman Joe Connelly told the Chicago Sun-Times this week. "It's who we are, and it creates an opportunity to have a big picture mindset."
Nearly a dozen officers assaulted.

Fifty-four people arrested.

More than 300,000 people crammed along a 24-block stretch.

When confronted with those figures at their annual wrap-up meeting Tuesday, the South Side Irish Parade Committee deviated from its agenda and took an unplanned vote to end the parade. In a community where ties to law enforcement are valued as much as Irish ancestry, the event's fate seemed certain.

Even though Ald. Matt O'Shea (19th) opposed bringing the parade back, the Department of Transportation issued a permit to the parade committee this week, on one condition: it would be an alcohol-free affair, the Sun-Times reports. Local merchants reportedly donated $80,000 to hire a private security firm, and police plan on checking bags and coolers for booze on the day of the event -- which will be March 11.
"Safety is paramount to our plan," Connelly told the Sun-Times. "We are serious about having a zero-tolerance alcohol police, and that's for everybody. Our intent is to have an alcohol-free parade."
Whether the parade sticks around after this year, however, remains to be seen.
"Do it for one year and see what happens," parade committee member Jim Sheahan told the Sun-Times in November. "The sad thing about it is that there are so many little kids on the parade route. It's a great day for the neighborhood. It's unfortunate some idiots come in and goof it up for everyone."
Read more about the parade revival here.
Check out some photos of past South Side Irish parades here:

PHOTO GALLERY
Chicago's South Side Irish Parade
BEFORE YOU GO