To start off the new year with a curatorial bang, Known Gallery has enlisted the help of artist Sage Vaughn to bring a refreshing flavor to Known's white walls. Vaughn can glide from ephemeral painting techniques to honest collage pieces with ease. The artist once admitted to stealing his own painting back from a gallery that owed him money, so watch out, collectors!
Vaughn's new show, "Last Year" continues the work of the artist's envelope series, creating contrast between subject matter and materials. For many of his new works, Vaughn chose large woven pieces of cotton to apply his humorous collage to, juxtaposing the delicate state of the material with his odd-ball world of beautifully dated reference material and slogans.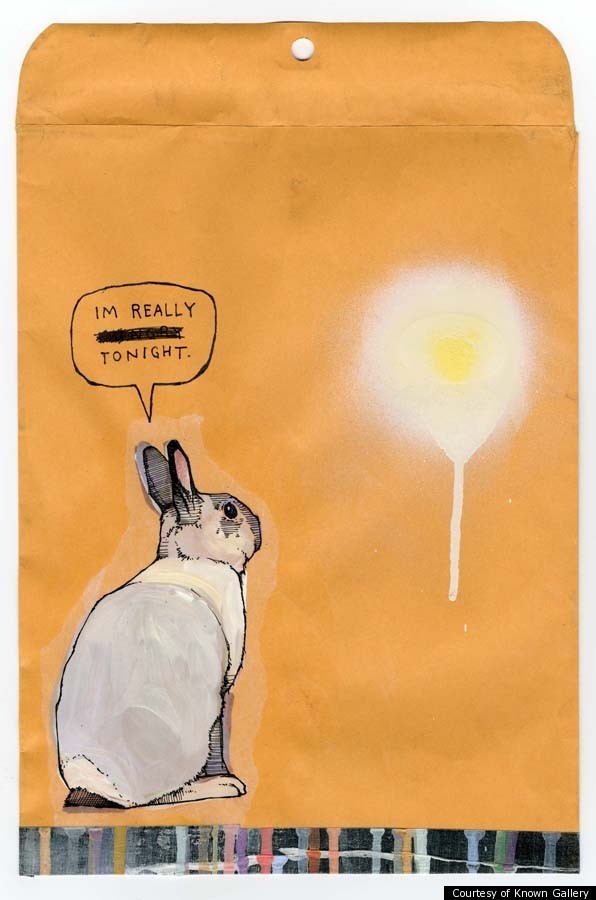 Sage Vaughn, "I'm Really Tonight", Mixed Media, 9" x 12", 2010, Courtesy of Known Gallery.
Humor is principal to Vaughn's work, but it's subtle. The subject matter won't hit you over the head with a laugh, but can come off as quirky and introspective, which is rare these days. "No More Apologies" is an especially good example of Vaughn's wit, tapping into the fervent thirst for '70s and '80s imagery that has hijacked the minds of hardcore Tumblr fans.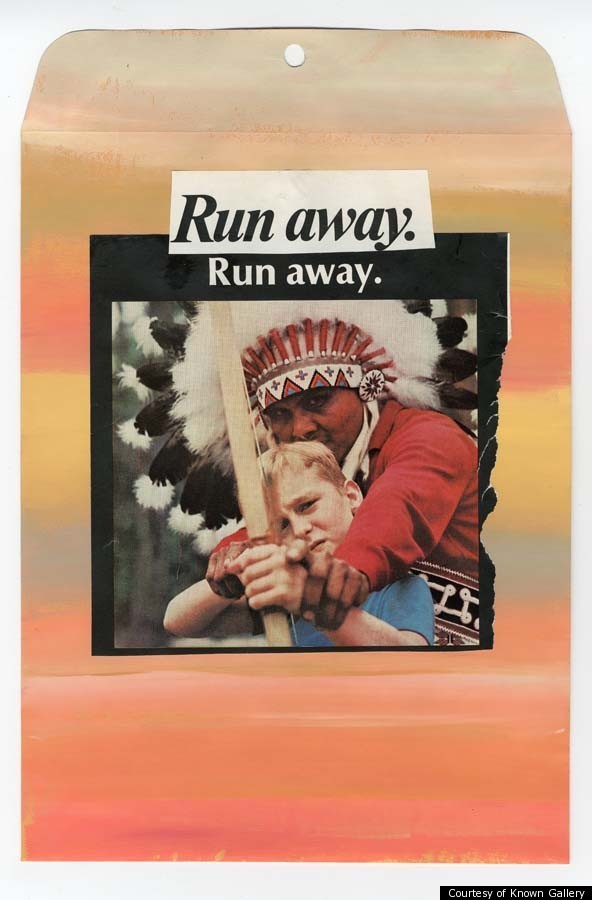 Sage Vaughn, "Run Away", Mixed Media, 9" x 13", 2011, Courtesy of Known Gallery
Whether viewed as lighthearted representation or as dystopian symbolism, Vaughn's work makes you observe and ponder what happened to us on the way to achieving an ideal world. Through these pieces, we are left to ponder, slowly digesting the weird moments that make up Vaughn's work without an explicit solution to the deeper problems. On Known's blog, the artist explains, "I think most good art has an element of humor within it to help us laugh at the human condition." So true, right?
Sage Vaughn's "Last Year" will be on display until January 29th, 2012 at Known Gallery . Check out the slideshow below for more images of his work, and let us know what you think in the comments section below!
PHOTO GALLERY
Sage Vaughn At Known Gallery
BEFORE YOU GO